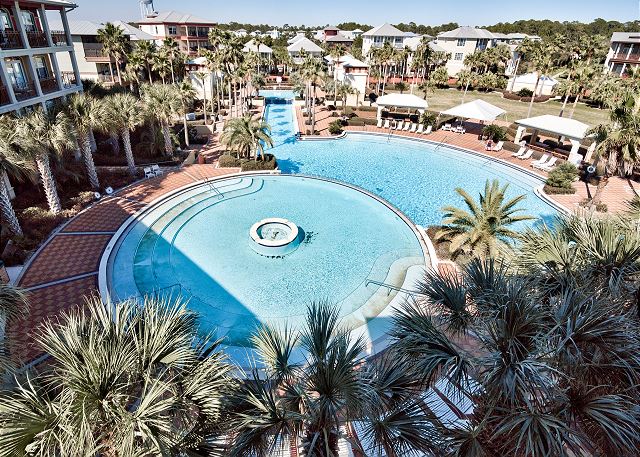 Children and adults love to spend time at the beach. The water can seem like bathwater due to how warm it is during various seasons of the year. Families frequently bring beach balls, floaties and sand toys. It is good to note that time and effort has been spent to ensure that the beach and shoreline stays in great condition. If the water is too turbulent or cold, children and adults are welcome to swim and lounge next to the lagoon pool. With 12,000 square feet of space, it is a great location for many to congregate and relax. In fact, some people spend more time in the pool as compared to the beach.
When it is time to stretch the legs and do something else, there are plenty of activities to do next to the beach. Some people like to take a bike ride next to the water and watch the waves roll against the shoreline. Walkers enjoy the paths that take them up and down the beach. When it is time to get some exercise and explore more of the area, feel free to visit the local state park, which features wildlife, walking paths, courteous members on staff and so much more. Children love to bring a camera or a video recorder because they never know what type of wildlife they may see. Golf enthusiasts appreciate the beautiful golf course that is in the area. It can be an ideal place for a couple to spend time together while their children are enjoying the pool or doing other activities.
Many families like to visit shops at Rosemary Beach or Village of South Walton. For people who want to go shopping but may not feel up to walking, keep in mind that Tram Service offers free transportation for people to want to go to and from the area to various shopping adventures. Restaurants and dining establishments in the area serve a wide variety of food that everyone in the family can enjoy. Fish that has been locally caught is frequently on the menu. Furthermore, there are burgers, salads, fresh fruit and cold ice cream. While shopping is definitely a fun adventure, an amphitheater is available for the community to enjoy as well as pool houses and a beach tram that is in service during various parts of the year.
When looking for the ideal beach vacation, remember that Seacrest Beach is the place to be. The beautiful beaches, Villas at Seacrest and shopping opportunities make 30A an attractive place to visit. It can be a wonderful vacation that people want to visit frequently
• Carefree Check in
• 12,000 Square Foot Pool
• Beach Tram in Season
• Large play area
• Community Barbecue Grill