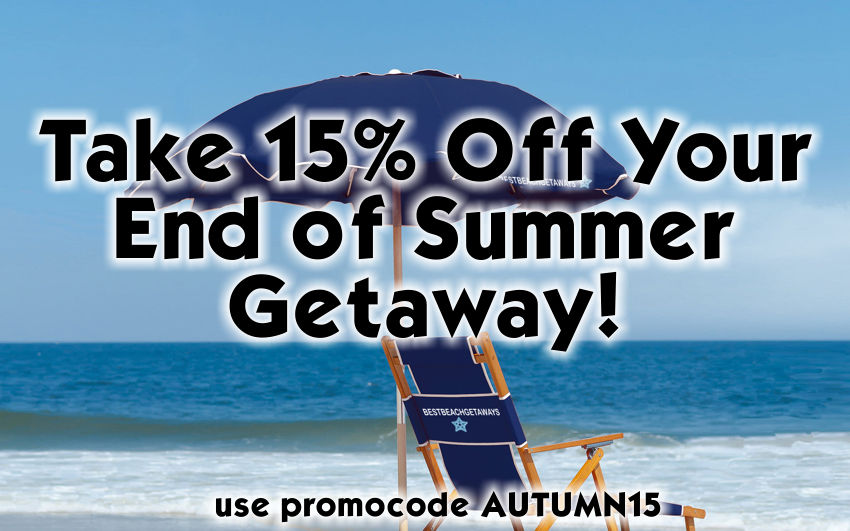 "AUTUMN15" Promotion Code offers 15% discount on all our rental properties for stays between August 6 and October 31, 2022.
The AUTUMN15 Promotion code is valid until October 24, 2022
Book NOW! to receive 15% discount
Best Times to Visit the Emerald Coast
No Service Fees! Book with us and save!
Just pick your dates between August 6 and October 31, 2022 and use promo code "AUTUMN15" in the discount code box and you save 15% on the rent in any of our rentals. Please note that this special promotion is offered on a first come, first serve basis. So, don't wait around or your perfect dates may be gone. Promo code AUTUMN15 is only valid until October 24, 2022.  Only applies to new reservations, cannot be used on existing reservations.
Best Times to Visit the Emerald Coast
The best time to visit the Emerald Coast is from May through October. Though the area boasts an average of 320 days of sunshine per year, late spring, summer and early fall offer some of the warmest air and water temperatures. Plus, by avoiding a visit in March or April, you'll dodge the deluge of college students who descend on the area's ivory sands every year for spring break. You'll save on lodging prices during the area's low season. Late Summer or Fall is one of the best times of the year to visit the Florida Emerald Coast.
If you are lucky enough to be flexible with your travel dates, and you can travel outside of typical School vacation dates then you are in luck! Here are some of the reasons you should consider in visiting our great beaches.
Perfect Weather
The hottest months of the year are also some of Panama City Beach's busiest. The temperatures can soar during June and July, but start to get cooler from late August onwards. This the local's favorite time of the year. It's still more than warm enough to spend a day at the beach working on your tan, but it's not so hot that you have to frantically run for shade!
Less Crowded
Once the Summer crowds that visit during June and July leave, the whole beach gets much quieter. Everything is still in full-swing and stays open. There are just fewer people to contend with when you want to do something. This means no wait times at restaurants. Shorter lines at attractions. More time to spend enjoying attractions, and not feeling so rushed to get around. Plus there's more space at the beach. Some people enjoy a crowd, but it is kind of nice to look around and feel like you almost have the place completely to yourself!
Much Less Traffic
You're always close to some great restaurants, fun things to do, the beach, and your hotel. So even during the peak season, getting around isn't exactly a problem. However, during these busy months it can take a little longer to get around. Since you're on vacation, every 5 minutes sat in traffic can feel like more like 30 minutes.
So, during late Summer and Fall it's nice to not have to deal with that at all and finding a premium front-row parking space is easier too!
Spectacular Sunsets
We've never seen a "bad" sunset in our beaches.
But that's not to say there aren't those that are more stunning and beautiful than others. During the Fall, low-hanging cloud formations make the sunsets even more spectacular than normal. You'd have to see them to understand but watching the hot pinks and vibrant oranges bounce of the sky and reflect in the Gulf is pretty magical!
Late Summer Special Events
You might expect the summer season to be the peak time of the year for special events. While there are definitely some cool things happening then, the Fall is just as action-packed!
Some of the top Fall events include the Fall Motorcycle Rally and a Classic Car Show with hundreds of hot rods and stunningly restored classic American cars.
If horsepower and chrome isn't your thing, don't worry.
There's also a wine festival, lobster festival, a Reggae music festival with chili cook-off, the Chasin' the Sun Music Festival, and of course, the classic Pirates of the High Seas Festival! So you shouldn't come here thinking there will be nothing going on during your stay…
Lower Rates
We might have saved the best for last.
By now you might be getting the idea that the late Summer and Fall is actually the best time of the year to visit the Emerald Coast.
So, to visit during the best time of the year anyway, and also pay less for your beach rental is the icing on the cake!
So, if you're thinking of booking a beach Getaway, and you can be flexible with your dates, think about visiting during the late Summer or Fall for the BEST value!
If you are looking for things to do while on vacation at the Emerald Coast see our Best Things Lists;