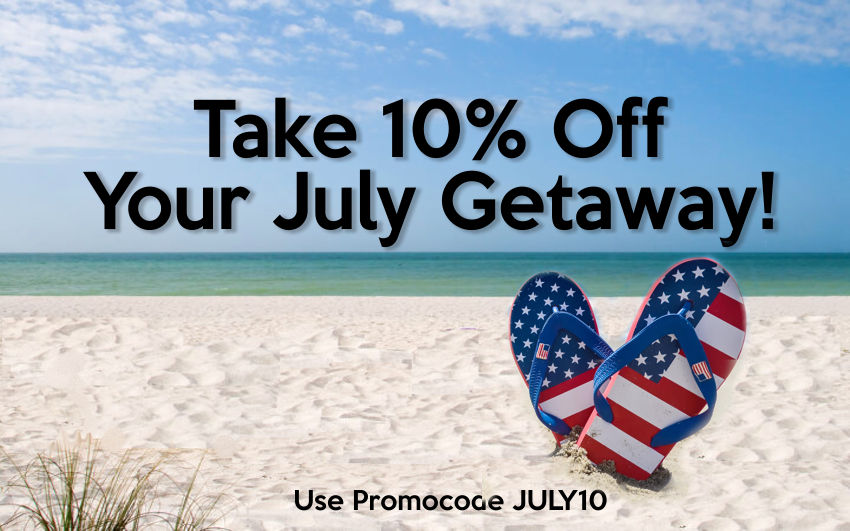 "JULY10" Promotion Code offers 10% discount on all our rental
properties for stays between June 25 and July 31, 2022.
The JULY10 Promotion code is valid until July 15, 2022
Book NOW! to receive 10% discount
Places to watch fireworks on the Emerald Coast and Anna Maria Island.
No Service Fees! Book with us and save!
Just pick your dates between June 25 and July 31, 2022, and use promo code "JULY10" in the discount code box and you save 10% on the rent in any of our rentals. Please note that this special promotion is offered on a first come, first serve basis. So, don't wait around or your perfect dates may be gone. Promo code JULY10 is only valid until July 15, 2022
Only applies to new reservations, cannot be used on existing reservations.
Places to watch fireworks on the Emerald Coast and Anna Maria Island.
The skies over the Emerald Coast will light up with more than just incredible blazing sunsets this summer. Adding to nature's amazing light show are dozens of must-see 4th of July fireworks displays and celebrations. Here are some of the best Independence Day events the Emerald Coast has to offer.
Navarre Beach's Hometown 4th
Described as Florida's most relaxing place, Navarre Beach is well known for its pristine white beaches, calming emerald Gulf shoreline, and incredible sunsets, but that tranquility is short-lived on the 4th of July with the town's Hometown 4th celebration.
Grab your beach blanket or chair and join the fun with live music on the sugary beach, then catch the dazzling firework display over the Gulf.
Panama City Beach's Star Spangled Spectacular
With its small beach town feel, the seaside community of Panama City Beach holds claim to the most beautiful beaches in the world. With 27 miles of glistening white sand hugged by crystal clear emerald Gulf water, it's hard to argue with them.
The town rocks to life the 4th of July weekend with its annual Real Fun Fourth. Each night there is a fireworks spectacular beginning with Light Up The Bay on July 2nd at Papa Joe's Bayside. The next night, it's Light Up The Gulf at the Boardwalk Beach Hotel and Convention Center and the Freedom Rocks Fireworks Show at Grand Lagoon.
The holiday is capped off with what is described as the largest fireworks display on the Gulf Coast – the Star Spangled Spectacular at the M.B. Miller County Pier. The show begins at 9 p.m.
Destin Commons' Smoke On The Coast
With almost 70 stores and 20 restaurants, Destin Commons is a must-visit shopping destination for visitors to Florida's Emerald Coast. The vibrant colors and inviting atmosphere of the Commons makes your shopping experience a pleasure. The Commons is even pet friendly. Leashed pets are allowed to stroll the streets with you. There are even dog-friendly restaurants, including World of Beer, Starbucks, and Smashburger, where dogs are allowed to dine with you on their patios. They even have treats for your pup.
Anna Maria Island is a happening place, with lots of sunshine, great restaurants and shops, live music, and countless beach activities. But add a statutory holiday like the Fourth of July and the island is humming with a buzz of people, festivities, and, of course an incredible fireworks show on Anna Maria Island. If you're lucky enough to be there for this national celebration, you'll have your pick of many great Fourth of July events on AMI and in Bradenton and Sarasota. Here's a look at a few fun things to do on and near Anna Maria Island this Fourth of July.
Watch a fusion of colors explode in the sky while you sink your toes into pristine, white sand at The Sandbar Restaurant, which has hosted the show for more than 30 years. The event takes place at their outdoor wedding pavilion at dusk. The restaurant offers a party package for the night that includes VIP seating for the show.
Since Anna Maria Island is just off the coast, you can watch fireworks going off on the mainland over Sarasota Bay. Pick a spot on the beach on Anna Maria Island or mainland Sarasota and watch the free public fireworks display.
Baseball & Fireworks in Bradenton
You can't get more American than baseball, so what better way to usher in Independence Day than with a baseball game?
Watch minor-league team the Bradenton Marauders take on the Jupiter Hammerheads for their Independence Day Celebration game on July 3 – a perfect opportunity for some patriotic fun a day before the 4th. Finish off this all-American event with the ultimate Fourth of July tribute, which is supposed to be one of the best shows in the area. LECOM Park is just east of Anna Maria, and the game begins at 6:30 p.m.
If you are looking for things to do while on vacation at the Emerald Coast see our Best Things Lists;