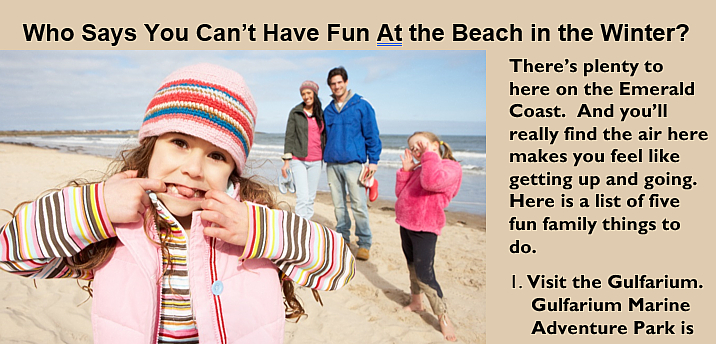 is dedicated to educating, entertaining, and inspiring kids of all ages to respect and preserve wildlife by providing unique and memorable experience.  You and the kids will get a better understanding of marine live here on the Emerald Coast.
Packed with deals and discounts, late winter in Destin, Fort Walton Beach and Okaloosa Island lures those in the know.
2. A Round of Golf or Two. As if the excellent pre-season pricing weren't enticement enough, the availability of tee times at the championship golf course is another reason shoulder season is a great time to visit. Regatta Bay's 18 championship holes are nestled along Choctawhatchee Bay, and have been named one of Golf Digest's top courses to play in North America. The course is both scenic and challenging for all skill levels. The semi-private Emerald Bay winds through one of the area's most prestigious neighborhoods and features a stunning backdrop of the bay, while Elgin Air Force Base offers 36 holes of championship golf on two courses, plus a lighted driving range and chipping and putting greens. Grab a round at Signal Hill in Panama City Beach or the Legends course in Bay Point. You'll find unbelievable deals on golf here.
3. Don't Let Sleeping Fish Lie. The waters are warming up – and that means some sport fish are ready to elude anglers. The short and much-awaited Florida Cobia season starts in early to mid-March, dependent on the water temperature close to shore. When the water's warm enough – 65 degrees – the Cobia leave the relative safety of the reefs, and anglers follow with lines at the ready. Staples like grouper, amberjack and redfish are caught all year long, with the captains of the fleet in the World's Luckiest Fishing Village always ready to give chase. But not all fish tales are told on the water, however. The Destin History and Fishing Museum tells the story of life in Destin before it became known as the spot for fishing, and exhibits include antique rods and reels, historic photos of ambitious anglers, and a huge display of the types of fishing that lure anglers from across the world.
4. Have the Beach to Yourself. If you've been here in the summer you know how crowded it can be.  Well, at this time of year, you almost have the whole beach to yourself.  What does that mean?  The shells aren't aren't picked over.  You can pick your spot just about wherever you want.  And, while it's not tanning weather you'll get plenty of vitamin D with the sunshine here.  In fact there's days when you'll shed that jacket.
5. Get on a horse. If you haven't done it, trail riding here on the Emerald Coast. Check out Sunshine Riding Trails  just a little north of Panama City Beach or The Equestrian Center in Fort Walton Beach.
These are just a few things to do here while rates are low and weather is still pretty special.  For more information see our Best Things Lists;