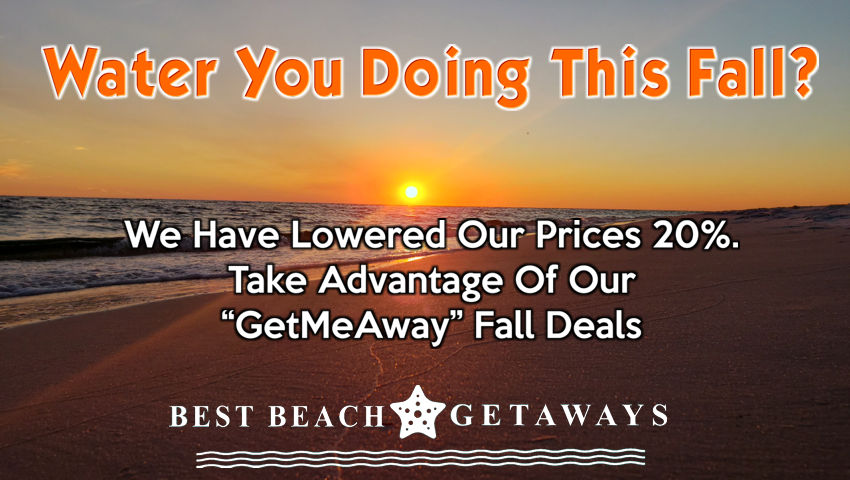 Fall is the perfect time to visit our Beaches. Our "Get Me Away" promotion continues to be VERY popular among our valued guests, so we keep adding even more units to it. Pick any date that's available from October and November and use the promo code "GetMeAway" We're offering a 20% discount on these 36 fantastic vacation rental properties.
Just pick your dates and use promo code 'GetMeAway' in the discount code box and you save 20% on the rent in any one of these super rentals. Please note that this special promotion is offered on a first come, first served basis. So, don't wait around or your perfect dates may be gone.
Only applies to new reservations, cannot be used on existing reservations.

Reasons To Visit The Emerald Coast In November
Amazing Weather
Fall at the beach is its own brand of beauty. The pace of the waves and clouds change, and everything starts to slow down. Weather at the beach is absolutely beautiful in November.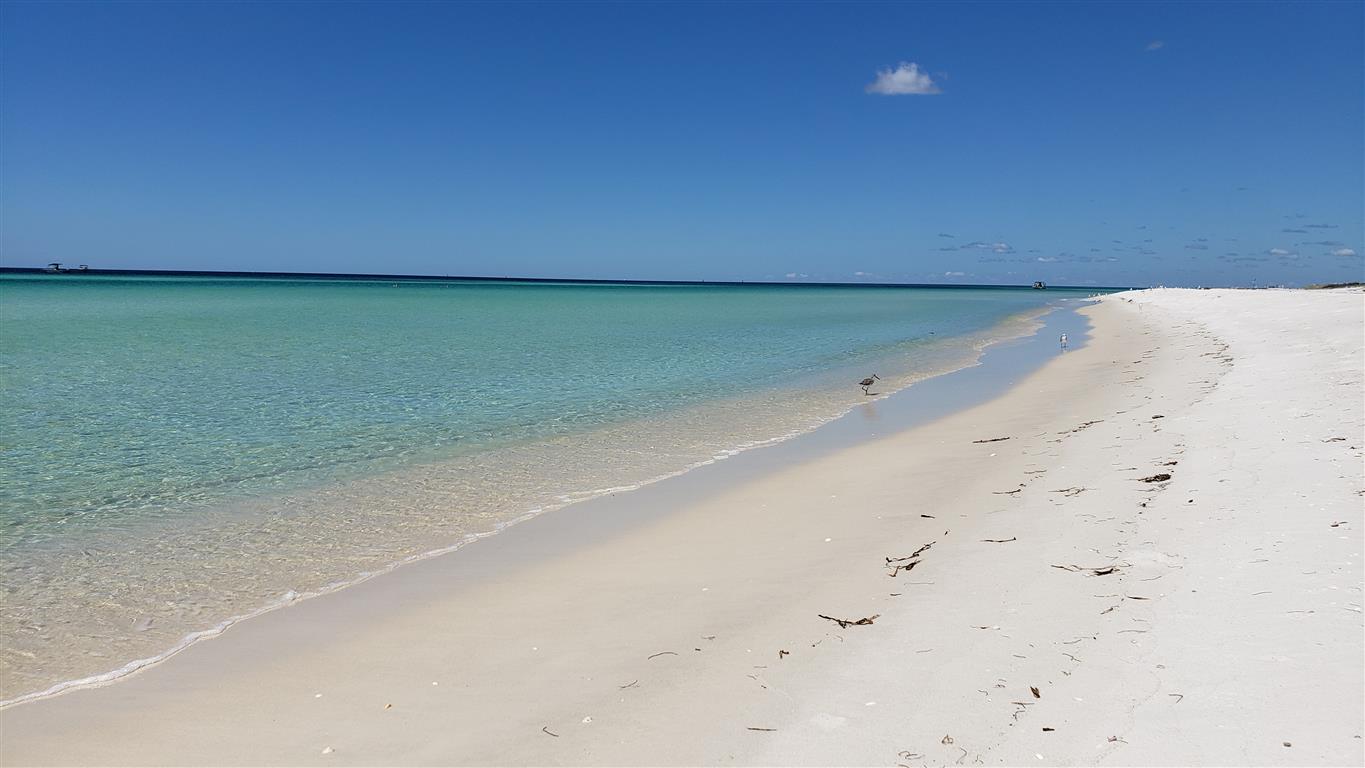 Temperatures tend to be in the low to mid-70s, meaning you can still walk along the shore or splash in the waves without being too cold! It's warmer during the day and gets cooler when the sun goes down, making it perfect for spending time in the water in the afternoon and taking a stroll along the beach in the evening and watching the sunset. Mild weather makes for great dining and drinking outdoors, too. Relax at one of Panama City Beach's many great beachside restaurants and bars, check out a live show, or sip a cocktail aboard a dolphin cruise as the sun fades beyond the waves. Oh yes, and speaking of sunsets, the drop in humidity in the fall brings plenty of clear nights--perfect for watching the sun rise or set.
Fewer Crowds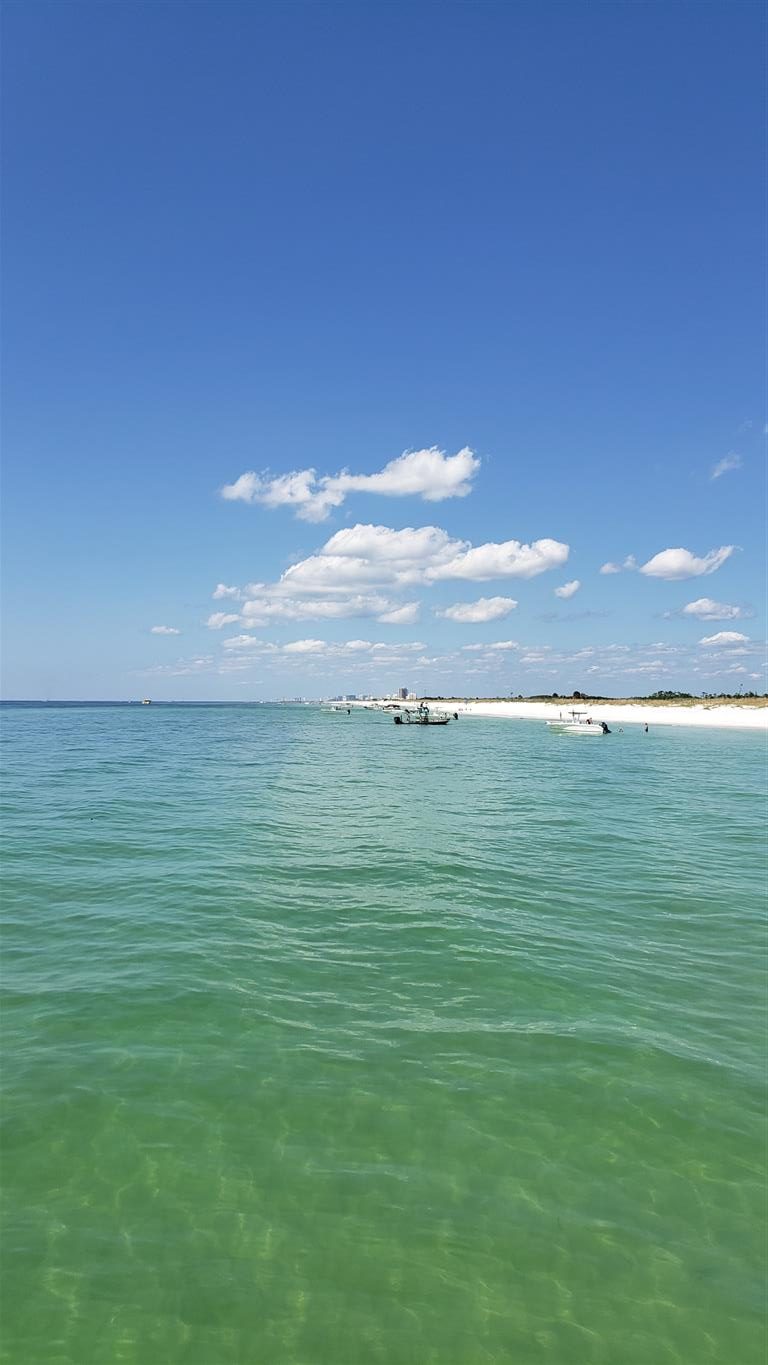 As summertime comes to a close, plenty of folks begin to shift their sights toward adventures into the mountains or ski hills. One of the best parts about taking an Emerald Coast vacation in November is that it's the least busy time of the year! The beach will be more peaceful since it's not peak season and you won't have to worry about not being able to find a place to lay your towel down in the sand. There will also be less crowds in all the popular areas, which means shorter lines at restaurants, in shops, and at attractions!
What to do
Another reason to visit the Emerald Coast is all of the fun things to do! From festivals, to celebrating Thanksgiving, to kicking off the holiday season, the excitement never ends. Not only can you go shopping and explore the usual attractions, but there are special events for you to experience as well!
Enjoy Thanksgiving
Spending Thanksgiving on the Emerald Coast is a unique experience. The area is famous for families and friends getting together to celebrate Thanksgiving. One popular place to dine on this special holiday would be the Thanksgiving Feast Cruise in Destin, where they serve a delicious buffet on the water! The menu includes butter & herb roasted whole turkey with giblet gravy and pineapple-maple glazed ham, and all your favorite Thanksgiving side dishes, like cornbread dressing, sweet potato casserole, and green bean white cheddar casserole.
Start off your Holiday Season
The Emerald Coast starts to kick off the holiday season, towards the end of November, On November 20th, Sandestin Golf and Beach Resort and Sandestin Wine Festival will kick off the holiday season with our 9th Annual "Sparkling Wine and Holiday Lights" event from 4-6 pm.  For more Christmas fun, checkout the Coastal White Christmas Holiday Lights daily from Nov. 19 - Jan 2 at the Town Center Grand Boulevard at Sandestin, or in Panama City Beach don't miss the Christmas festivities at Aaron Bessant Park where you can attend carol-themed concerts, s'mores, an appearance by Santa and activities for the kids. Fireworks will be the encore each night.
Having all these reasons to take an Emerald Coast vacation in November, start planning your visit! Take a look at all of our Emerald Coast vacation rentals and book your Best Beach Getaway today.
If you are looking for things to do while on vacation at the Emerald Coast see our Best Things Lists;