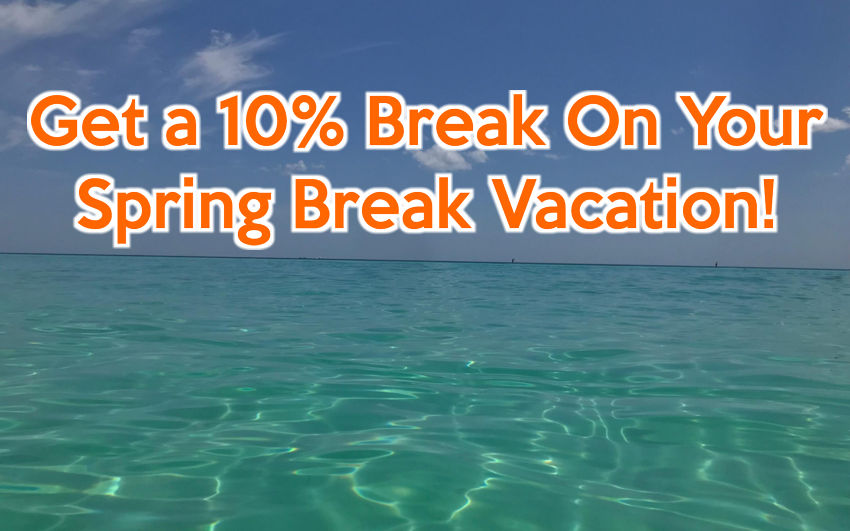 Use "SPRING10" Promotion Code to receive 10% discount on all our rental properties for reservations made between 12 March and 08 April 2022.  SPRING10 Promotion code is valid until 01 April 2022 -- so book NOW!
Springtime is a great time to visit our Beaches, see below our Reasons to take your Beach Vacation in Spring.
Just pick your dates between 12 March and 08 April 2022 and use promo code "SPRING10" in the discount code box and you save 10% on the rent in any one of rentals. Please note that this special promotion is offered on a first come, first served basis. So, don't wait around or your perfect dates may be gone. Promo code SPRING10 is only valid until 01 April 2022
Only applies to new reservations, cannot be used on existing reservations.
Spring Break on Florida's Emerald Coast
If you're searching for a low-key Spring Break BEST Beach Getaway with tons of family-friendly fun, look no further than Florida's Emerald Coast! From Panama City Beach to Destin and Navarre, you can find the best of both worlds: uncrowded, pristine coastline with plenty of things to see and do.
If you're on the fence about where to spend Spring Break, we've got you covered. Here are a few good reasons to book your early spring beach retreat to Florida's Emerald Coast:
Fewer Crowds
One of the best parts about taking an Emerald Coast vacation in spring is that it's the least busy time of the year! The beach will be more peaceful since it's not peak season and you won't have to worry about not being able to find a place to lay your towel down in the sand. There will also be less crowds in all the popular areas, which means shorter lines at restaurants, in shops, and at attractions! Our peaceful sugar sand beaches are the perfect place to relax, unwind and make family memories to last a lifetime.
Splash in the glistening Gulf, watch the dolphins and majestic sea birds, build sandcastles with the kids or just kick back in your beach chair with a good book. Forget the rowdy crowds and traffic jams at those other packed beach destinations. Discover peace and quiet here on the Emerald Coast.
Fabulous Food
If the thought of fresh local seafood makes your mouth water, Florida's Emerald Coast is the perfect destination for you. Our area is home to a vast array of remarkable restaurants, from laidback beach cafes to waterfront oyster dives to fine dining experiences. You'll discover a wide range of cuisine for the whole family to enjoy. If you're a seafood lover, be sure to sample our world-famous Apalachicola oysters, clams, shrimp, blue crabs and the catch of the day straight from the Gulf. Not a fan of seafood? No worries! Most of our local restaurants also dish out delicious burgers, pizza, steak, sandwiches and more.
Don't forget dessert, we're known for our tasty-sweet treats. Across our area, you'll find top-notch ice cream parlors, donut diners and chocolate companies that specialize in serving up decadent delicacies.
Family-Friendly Fun
While our area is best known for its tranquil, breathtaking beaches, there are also plenty of awesome activities for your family to enjoy. From hiking, paddling, and fishing to shopping, boating or exploring our local museums and aquariums, the Emerald Coast is chock full of unforgettable adventures.
Here is a list of some of our favorite activities:
If you are looking for things to do while on vacation at the Emerald Coast see our Best Things Lists;