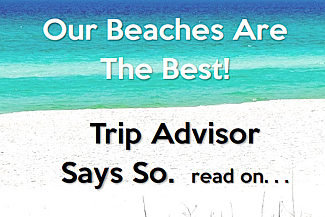 Here's something we've known all along.  Our beaches are better than just about anywhere else in the world.  In fact, one of our property owners who's very well travelled chose Panama City Beach for his permanent place at the back.  And now our friends at Trip Advisor are tell the rest of the world the same thin.  They just named Panama City Beach as the No. 2 "Emerging Destination" in the world in its Travelers Choice 2021 Best of the Best Awards.
We've said that all along," says Mike DeVos our reservations manager, "Guests ask us all the time where the best beaches are and we tell them right here in Panama City Beach."
In fact if you read the Trip Advisor article you'll see we beat out a number of great destinations, beach and non-beach:
Martinique
Panama City Beach
Armacao dos Buzios, Brazil
Holbox Island
Ives, United Kingdom
Mazatlan, Mexico
Colorado Springs, Colorado
Shoalhaven, Australia
Wroclaw, Poland
Mudgee, Australia
Annecy, France
Jeju Island, South Korea
Tromso, Norway
Ubatuba, Brazil
Dresden, Germany
Elba Island, Province of Livorno
Maastricht, The Netherlands
La Rochelle, France
Lugano, Switzerland
Malé, capital of the Maldives
Miyakojima, Japan
Tobermory, Ontario
Alexandria, Egypt
Mar del Plata, Argentina
Dunedin, New Zealand
The question you need to ask yourself is why go anywhere else one of the best spots in the world is right here in Panama City Beach.