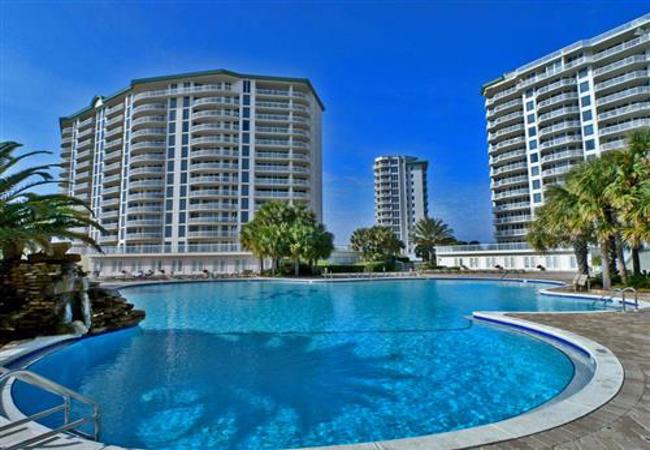 Nestled on the sugary white beaches of the Gulf of Mexico, Silver Shells Beach Resort and Spa offers the best in relaxed luxury and picturesque natural beauty for a truly memorable vacation in Destin, Florida. Enjoy the exclusivity and privacy of one, two, three, and four bedroom penthouses, condos, and villas that are fully-equipped with a kitchen, refrigerator, extravagant furnishings, high-speed internet access, cable television, and a washer/dryer. Additionally, guests can indulge in a wide range of resort amenities such as a fitness center, the sand bar, five-star restaurants, and indoor/outdoor pools. Among the best luxury resorts that cater exclusively to couples and families, the resort truly offers an experience of a lifetime.
At Silver Shells, guests can expect grand accommodations where breathtaking beach views can be observed from expansive tiled private terraces. With five Destin Condo Rental locations including St. Thomas, St. Croix, St. Maarten, St. Lucia, and St. Barth, the resort offers a peaceful getaway vacation through its premium hospitality and first-class facilities and services. All rooms contain luxury furnishings and fixtures throughout the unit, a Jacuzzi whirlpool tub in the master bath, a fully-equipped kitchen with many appliances, and cable television and telephone jacks in living room and bedrooms. The resort also presents fully-furnished Poolside Cabanas that feature cable television, a half-bath, and a living area with a mini-fridge. Additionally, around the clock phone support is available to satisfy virtually any need so that guests can enjoy an unparalleled escape to paradise.
Surrounded by a 7,500 square foot lagoon pool with waterfall and whirlpool details, this renowned resort offers a wide range of attractions for couples and families. Along with convenient access to sparkling pools, guests can drift away to the sounds of rolling waves at the exclusive beach. The La Dolce Vita beach service is pleased to present beach chairs and umbrellas for those who seek a more restful day on the sand. The onsite beach service also features a little adventure including some of Destin's favorite water activities: sail boating, parasailing, and kayaking. For those who are eager to explore the local area, the resort is centrally located among premier shops, nightlife, attractions, and dining.
Inspired by the bountiful produce throughout western Florida, the resort provides guests the opportunity to dine at Ruth's Chris Steakhouse and Fisherman's Wharf. While Ruth's Chris Steakhouse of Destin is most known for world famous USDA prime steaks, scrumptious seafood, and New Orleans-styled appetizers, Fisherman's Wharf boasts delectable gator wings, perfectly seasoned triggerfish, and fresh oysters. Emphasizing a modern, comfortable, and tropical experience, The Sand Bar and Grille is located directly on the resort's private beach. Combining breathtaking views with a summer cuisine, this beachside restaurant encourages guests to enjoy a snack or meal along the captivating Emerald Coast.
• Carefree check in
• 7500 sq ft Lagoon Pool
• Gulf Front Tiki Bar
• Indoor Pool
• Kiddie Pool
• Tennis Courts
• Volleyball Court
• Cardio Center
• Weight Room
• Sauna
• Ruth's Chris Steak House
• Basketball Court
• Full Service Spa
• 24 Hour Security
• Gated Entrance
• Poolside Cabanas