Sandestin Bayside Villages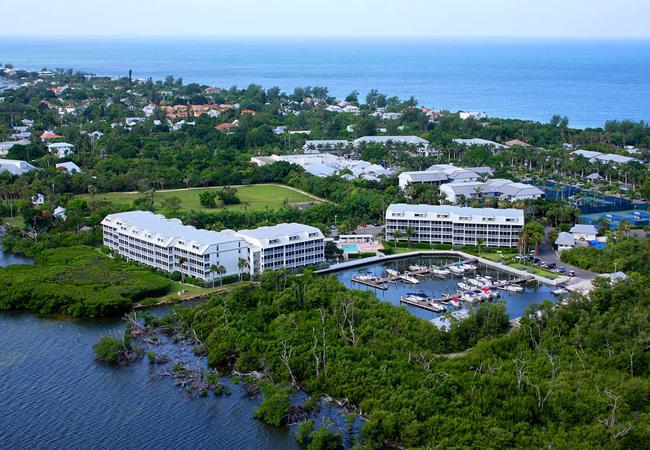 Bay and bayou, nature preserves and marina. Add the breathtaking backdrop of the bay, golf courses, and the marina and you've got a true gem on the resort. Beautiful homes across 13 different neighborhoods, from cottages to condos, each with their own attractive amenities. Affectionately known as the "historic district" Bayside holds the key to generations of fond Sandestin memories.
Augusta Village -- When you want easy access to bayside amenities such as golf, dining, and fitness center, Augusta Village is the place to be. Located along the 11th fairway of The Links Golf Club, in this reputable Sandestin community you'll find fully furnished kitchens, dining and living areas, in addition to the convenient carports. These two- and three- bedroom cottages offer relaxed holiday comfort and great value.
Bayou Village -- Peace, comfort, and perfectly located near the many amenities that make Sandestin Golf and Beach Resort so well loved. At Sandestin Bayou Village you're overlooking a large lagoon laced with lush landscaping and tucked along the 14th and 17th fairway of The Links Golf Club. These vacation rentals are fully furnished with kitchen, dining and living areas and also offer convenient access to bayside amenities such as golf, dining, fitness center, and the salon & day spa.
Vantage Point -- Once you step inside one of these Sandestin vacation rentals, you won't have to wonder how it was named. The amazing vantage point and spectacular Sandestin view speak for themselves. Sitting along the Choctawhatchee Bay with screened-in porches and fully furnished kitchen, dining and living areas, Vantage Point is the perfect home away from home.
Fairways -- Maybe you'll stay in a unit with views of the large reflective lake from your screened-in porch or private dock. If not, you'll find yourself sheltered beneath towering Florida pines in a quiet neighborhood in Sandestin Golf and Beach Resort, in a two- or three-bedroom fully furnished cottage.
Heron Walk -- Nature lover? Located close to the main gate and a quick trip to the beach or Village of Baytowne Wharf, surround yourself with stunning views of salt marshes and even Jolee Island Nature Park. You'll find these villas a peaceful retreat that is fully furnished with kitchen, dining, and living area, taking in panoramic views of the marsh and bay.
Linkside -- Comfortable, affordable, with many rentals facing a large interior lake. Fully furnished vacation rentals with full kitchen and dining and living areas. A perfect fit for any sunny Florida family vacation.
Magnolia Village -- Scenic and affordable, a sometimes rare combination. Magnolia Village features two- and three-bedroom vacation rentals that are fully furnished with kitchen, dining and living areas, and all of the comforts of home.
Players' Club -- Serious about your golf game and dreaming of a green vacation? Then you'll want to stay overlooking Choctawhatchee Bay and The Links Golf Course at the Players' Club in these two bedrooms rentals, with fully furnished kitchens, dining and living areas.
Sandpiper -- When you're looking for the calm and serenity of a large lake with stunning views of the Choctawhatchee Bay. These attractive two- and three-bedroom Sandestin vacation rentals are nestled between the 10th and 17th fairways of The Links Golf Course. Enjoy private porches as well as the fully furnished kitchen, dining and living areas.
Harbour Point -- The perfect combination of spectacular views and the perfect convenient location, right in the heart of Sandestin's bayside amenities. Enjoy these two-bedroom, fully furnished accommodations with views of a beautiful lake and The Links Golf Course.
North Shore-- A room with a view, and you can choose your view: the scenic bay, a serene lake, or velvet greens of The Links Course. These spacious three-bedroom, three-bath vacation townhomes feature fully furnished kitchens, dining and living areas.
L'Atrium -- Seclusion and serenity, away from it all on Sandestin's bayside. At L'Atrium you'll find fully furnished two-bedroom vacation rentals with outdoor privacy walls that wrap around lushly landscaped courtyards.
Destin also offers high-class shopping experiences with Silver Sands outlets, the biggest designer outlet in the area, which is walking distance from your room. With over 100 brand name and designer stores, you can be certain you'll find what you're looking for. Anything you want, you can find at Silver Sands Outlets. If you prefer smaller scale shopping, a short distance from Silver Sands you'll find Grand Boulevard, which offers quaint boutiques and upscale dining options as well as a movie theatre. You can be sure you'll never be bored in Sandestin Beachside.
Another fantastic feature Destin offers is water sports. If you're a fan, this is the place to be. From jet skis to paddle and wakeboarding, you can be sure you and your family will have a great time. You can also rent a boat and check out Crab Island and try your hand at deep sea fishing.
In the "World's Luckiest Fishing Village", who knows what you might catch!
Make Destin your destination of choice for your next vacation and enjoy everything mentioned above. There is no better place to spend some time with your family. You can relax and enjoy all the nature, shopping, and water sports you want. Be sure to visit Sandestin Beachside and make your vacation the best one you and your family have ever had! Beachside is part of the greater Sandestin golf and beach resort and Village of Baytowne
Looking for a bit more me-time? Browse the delightfully quaint boutiques and treat yourself with an outfit, some jewelry, a souvenir to take home. Stroll through the wonderful galleries, followed by a delicious meal at one of Baytowne's exquisite restaurants and charming eateries.
Want to switch things up? Check out the Baytowne Wharf, Sandestin Tennis Center, and Jolee Island Nature Park, which are all within walking distance from the Elation resort. With Sandestin Golf & Beach Resort, you have access to free bicycle rentals, free kayak and boogie board, free resort transportation, and free tennis court time while staying at Destin condo rentals. You have no excuse not to go!
Baytowne Wharf is a colorful full-service 113-slip marina that accommodates yachts up to 140 feet. Charter a boat, whether light tackle, fishing charter, pontoon boat, or wave runner and ride the waves to your heart's content. Lures, hooks and poles are all available to complete your day on the water. And don't forget to stop and say hello to Mary Ann, the very talkative Macaw, and she may even give you a sunny Sandestin hello back!
The Sandestin Tennis Center offers private tennis lessons with certified USPTA and USPTR pros and equipment rentals. If you feel like a friendly match but don't have anyone to join you? Sandestin Tennis Center offers matching services to find you a tennis partner for a game.
Be prepared to spend an entire day at Sandestin's private, five-acre Jolee Island Nature Park nearby Baytowne Marina. You can enjoy soothing family cookouts and picnics surrounded by the island's striking landscape while the children play in the pirate playground. Take a hike on the many trails, or simply enjoy the view from one of the many porch swings. Remember to stay long enough to catch the breathtaking sunset over Choctawhatchee Bay before returning to your Destin condo rentals at Elation.