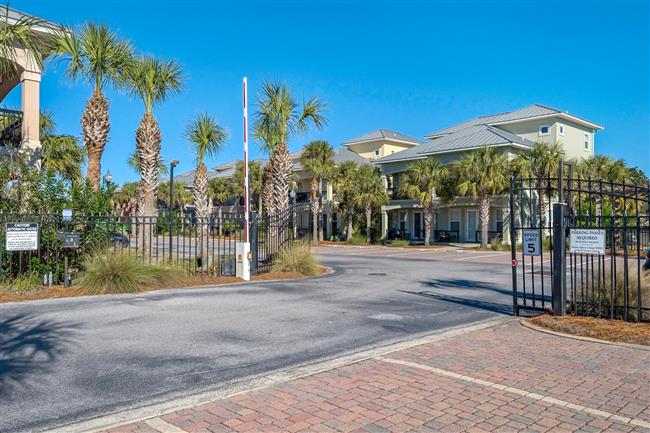 Are you looking for some peace and quiet while also being able to soak up that lovely Florida sunshine and warmth among Destin Condo rentals? Look no further than Miramar Beach Villas. This small, gated community consists of just ten buildings housing 20 contemporary townhouses built in 2006. Recalling a Mediterranean style, the buildings are surrounded by swaying palm trees, lush palmettos, and other tropical plants.
Guests of this community are provided with parking spaces in front of each villa with additional parking available on-site. A large patio offers the chance for sunbathing while those looking to get a little wet can enjoy a dip in the private community pool. Set back from the road and just off Scenic Gulf Drive, Miramar Beach Villas is the very definition of private and offers a secluded space for its guests.
Its two and three-story townhomes are each uniquely decorated. House names such as Florablanca, Beachboys and Mermaids, Pineapple Aloha, and Island Time clearly evoke that tropical feeling and give a warm welcome to the Destin Beach community. Each townhome offers between two and four bedrooms allowing anywhere from eight to fourteen guests to sleep in a single property. Sleeping arrangements range from full-size traditional beds to hideaway sofas and bunk beds.
Those looking to enjoy time at the beach can easily access a private deeded beach just a few hundred feet from the property. Close by on the Seascape Boardwalk, guests can enjoy activities such as kayaking, surfing, parasailing, jet skiing, golfing, and tennis. Nearby dining options include the popular beachfront bar and restaurant The Whale's Tail as well as Pompano Joe's, Captain Dave's, and The Crab Trap.
The town of Destin offers an active nightlife scene and a bustling local marina. Guests can visit the Silver Sands Premium Outlets for an extraordinary shopping experience or take in a movie at the brand-new movie theater. Additional restaurants, bars, and live music all speak of the thriving atmosphere of this locale. And yet, those who wish for peace and quiet can enjoy visiting nearby South Walton located along Scenic 30A or retreat to their own villa.
There are those who look for the giant resort experience among Destin Condo rentals and there are those who prefer something more intimate. Miramar Beach Villas is the place for that second group of people. Come and visit this lovely, secluded community located so close to the Gulf of Mexico.
• Outdoor Pool
• Private Beach Access
• Free WIFI
• Seasonal Beach Service
• Gated Community
• Water Sports Lessons