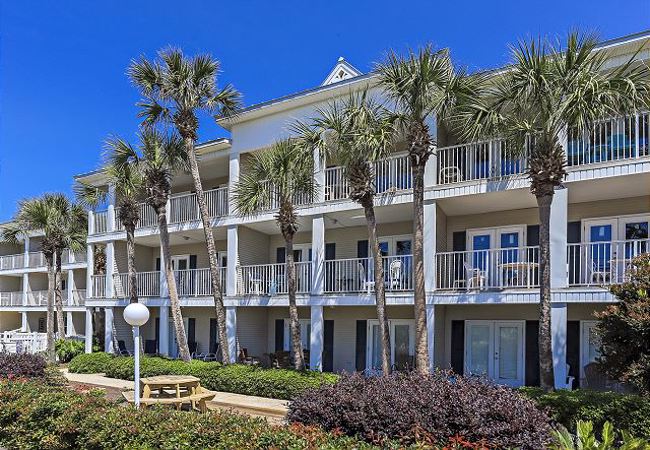 Located on Destin's quiet side and directly across the street from the Gulf of Mexico, Crystal Beach is home to Grand Caribbean East a beautiful three-story condominium that offers a tropical paradise setting and conveniences sure to please the entire family. Just steps from the sugar-white sandy beaches overlooking the sparkling waters of the Gulf of Mexico, this Emerald Coast gem is a great place to land for a beach vacation to Northwest Florida.
Grand Caribbean East and West each feature a lush, tropical landscape with a bit of old-world charm making it the ideal setting for all types of vacationers. Each one- or two-bedroom unit is cozy and nicely decorated with private balcony or patio. Each of these amazing Destin vacation rentals sleeps up to six people, and some have hall bunks. The views from the private balconies in each unit are breathtaking, while the decor is light and inviting. A pool, whirlpool spa, barbecue grilling facility, and on-site guest laundry complete the package for Grand Caribbean guests, not to mention the exhilarating views of the coast that lies directly across the street.
Enjoy the five-mile bike path that runs along the beach and the shopping and dining opportunities that are located nearby. Additionally, guests will find plenty of shopping, dining and entertainment in Destin within just a few minutes' drive. This quiet side of Destin is the perfect spot for a renewing beach escape along Scenic Highway 98 or choose to stay close and soak in the sun, enjoy the natural beauty of the area and let the gulf breezes refresh your mind and body.
INFORMATION ABOUT DESTIN
Located on Florida's Emerald Coast, the Destin area really is a treasure. Soft sand, crystal-clear water, pleasant weather, and a charmingly relaxed pace all make Destin an amazing place to visit. What began as a fishing town has now become a much-loved vacation spot for families and friends. Here is some background information to get you started as you plan to visit this enchanting spot:
Claims to Fame:
Destin was voted 'Best Beach in the South' and 'Top Family Destination' for nine years running by Southern Living Magazine readers. Also picked as the 'Best Beach in America' by USA Today readers.
History:
Destin has been inhabited for hundreds of years; first by American Indians as early as the year 600 A.D. and then by Spanish explorers. The modern Destin got its real beginnings in about 1845, when Captain Leonard Destin came here and lead the way for Destin's major fishing industry. Though people have been visiting and vacationing here for more than 150 years, Destin did not become an official city until 1984. This fact may have a lot to do with the quaint, peaceful atmosphere here. The small fishing village became a tourist resort because of its amazing natural beauty and charm. The residents of Destin pride themselves in the fact that Destin has maintained this environment so well, yet has become a prosperous and enjoyable resort area.
Location:
The city is located on a peninsula separating the Gulf of Mexico from Choctawhatchee Bay. The peninsula was originally a barrier island. Hurricanes and sea level changes gradually connected it to the mainland. In the 1940s, it technically became an island again with the completion of the Choctawhatchee-West Bay Canal. Destin is east of Pensacola between Fort Walton Beach and Panama City.
Climate:
With an average temperature of 67.2 degrees, you will find the sub-tropical climate just perfect for many of your activities. The Southern winds create comfort and warmth that gently surrounds you. Destin has very few weather extremes and is moderate and beautiful year round.
• Pool and Hot Tub
• Grilling Facilities
• Laundry