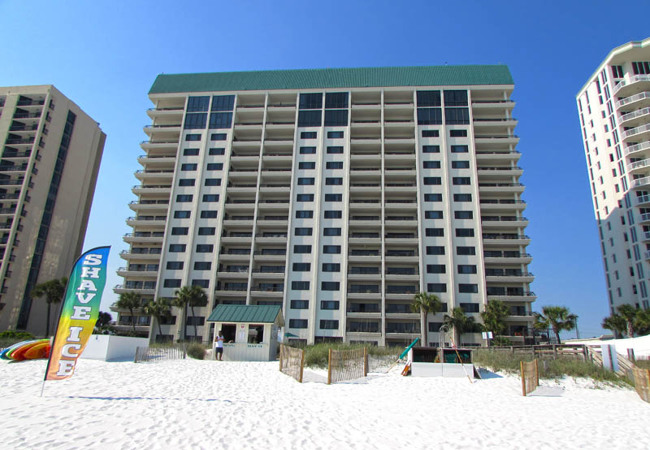 Destin, putting the sugar-white sands within steps and the gorgeous Gulf of Mexico within view from your private balcony. Emerald Towers is within easy walking distance of shops, restaurants, and theme parks like Big Kahuna's Water Park. Golf courses, the Destin Harbor, and many other Destin activities are a short drive away. Destin Airport is just 2 miles away. The nearest major airport is Northwest Florida Regional/Eglin Air Force Base, 20 miles from the accommodation, and the property offers a paid airport shuttle service.
Emerald Towers offers an outdoor swimming pool, a fitness center and air-conditioned accommodations with a balcony and free WiFi. All these amazing beach vacation rentals include a wet bar, washer/dryer and an in-room safe. Penthouses units feature a private steam shower, sauna, and whirlpool.
Hiking and cycling can be enjoyed nearby, while a bicycle rental service and a private beach area are also available on site.
All units come with a living room with a sofa, a flat-screen TV with cable channels, a DVD player, a fully equipped kitchen with a dining area and a private bathroom with a hairdryer.
All units face the sparkling sands and emerald Gulf waters. The penthouses offer a special Top o' the Beach experience.
• 82 – 2 & 3bedroom luxury units
• 3-bedroom units are end units with front and side views
• Penthouses with private steam, sauna, and whirlpool
• Private balconies
• Pool (heated October through May)
• Wet bars
• Individual unit washers and dryers
• A coed fitness center with sauna and steam room
• Two lighted tennis courts
• Private beach boardwalk
• Courtesy patrol 850-428-0974 (seasonal)
• Beach service (March-October)
• Video rental machine in the lobby
• Cable Services which include premium channels
• Building-wide high-speed WIFI
The condos at Emerald Towers offer the perfect setting for a family to have fun. This property has all the beauty of the best Florida beaches but without the crowds and congestion. If your family is looking for a relaxing break in Florida, this is it. The property is preeminent among Destin condo rentals. Come enjoy the gorgeous Florida weather in an exclusive setting. For more resorts and vacation rentals check our other areas
INFORMATION ABOUT DESTIN
Located on Florida's Emerald Coast, the Destin area really is a treasure. Soft sand, crystal-clear water, pleasant weather, and a charmingly relaxed pace all make Destin an amazing place to visit. What began as a fishing town has now become a much-loved vacation spot for families and friends. Here is some background information to get you started as you plan to visit this enchanting spot:
Claims to Fame:
Destin was voted 'Best Beach in the South' and 'Top Family Destination' for nine years running by Southern Living Magazine readers. Also picked as the 'Best Beach in America' by USA Today readers.
History:
Destin has been inhabited for hundreds of years; first by American Indians as early as the year 600 A.D. and then by Spanish explorers. The modern Destin got its real beginnings in about 1845, when Captain Leonard Destin came here and lead the way for Destin's major fishing industry. Though people have been visiting and vacationing here for more than 150 years, Destin did not become an official city until 1984. This fact may have a lot to do with the quaint, peaceful atmosphere here. The small fishing village became a tourist resort because of its amazing natural beauty and charm. The residents of Destin pride themselves in the fact that Destin has maintained this environment so well, yet has become a prosperous and enjoyable resort area.
Location:
The city is located on a peninsula separating the Gulf of Mexico from Choctawhatchee Bay. The peninsula was originally a barrier island. Hurricanes and sea level changes gradually connected it to the mainland. In the 1940s, it technically became an island again with the completion of the Choctawhatchee-West Bay Canal. Destin is east of Pensacola between Fort Walton Beach and Panama City.
Climate:
With an average temperature of 67.2 degrees, you will find the sub-tropical climate just perfect for many of your activities. The Southern winds create comfort and warmth that gently surrounds you. Destin has very few weather extremes and is moderate and beautiful year round.
• Private balconies
• Pool (heated October through May)
• Wet bars
• Individual unit washers and dryers
• Courtesy patrol 850-428-0974 (seasonal)
• Beach service (March-October)
• Video rental machine in the lobby
• Cable Services which include premium channels
• Building-wide high-speed WIFI
• A coed fitness center with sauna and steam room
• Two lighted tennis courts
• Private beach boardwalk