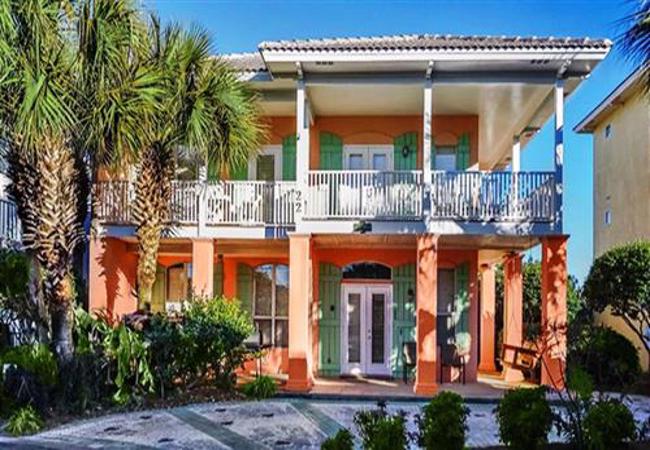 Florida is famed for her gorgeous beaches. However, soft white sands that feel like you are walking on talcum powder and green water that shimmers like emeralds can only be found on the Gulf Coast. Destin is one of the beautiful places that holds these special beaches.
When vacationers choose Destin, they are saying 'yes' to the best that Florida has to offer. When they choose a vacation home in Emerald Shores they are saying 'yes' to gorgeous stucco Caribbean-style homes. 94 homes are located in the community. There are also two community pools, a grill, tiki bar and showers and restroom facilities. However, the main draw is the beach, right? The guests here enjoy a private beach with its own pavilion area. No need to dredge back to the house to take a shower and eat. No need to pack up the little ones when they have to use the 'potty'. Everything is right where you need it.
If you family tires of the beach, there is still plenty to do. Splash and play in the two community pools. Play some shuffle board with your spouse. The kids can enjoy a game of basketball or tennis. In nearby Destin guests can shop, dine or drink wine. Have a lobster dinner at one of the seafood restaurants. If seafood isn't what you want, don't worry. There are plenty of dining options. Bars and entertainments abound in this area.
Of course, the silky, cool water is what visitors come to Florida to enjoy. Clear visibility in deep water is perfect for spotting marine life such as dolphins and rays. Scuba dive, snorkel or grab a boogie-board and enjoy the waves. Anglers will enjoy great sports fishing here. Catch cobia, flounder and spades in the warm gulf currents. Take a glass-bottomed boat ride. Try your hand at paddle-boarding. There is so much to do in Destin. Your only problem will be finding time for everything.
Enjoy beach-themed decor and colors, amazing views, and fully-stocked kitchens. Pull out sofa-beds and built-in bunk beds assure everyone a comfortable place to sleep. Who really sleeps on a vacation, though? As soon as that gorgeous sun rises over the ocean, everyone will be ready to hit the beach for a day on or in the water.
Come and explore this jewel of the gulf coast for your next family beach vacation. For more resorts and vacation rentals check our other areas
INFORMATION ABOUT DESTIN
Located on Florida's Emerald Coast, the Destin area really is a treasure. Soft sand, crystal-clear water, pleasant weather, and a charmingly relaxed pace all make Destin an amazing place to visit. What began as a fishing town has now become a much-loved vacation spot for families and friends. Here is some background information to get you started as you plan to visit this enchanting spot:
Claims to Fame:
Destin was voted 'Best Beach in the South' and 'Top Family Destination' for nine years running by Southern Living Magazine readers. Also picked as the 'Best Beach in America' by USA Today readers.
History:
Destin has been inhabited for hundreds of years; first by American Indians as early as the year 600 A.D. and then by Spanish explorers. The modern Destin got its real beginnings in about 1845, when Captain Leonard Destin came here and lead the way for Destin's major fishing industry. Though people have been visiting and vacationing here for more than 150 years, Destin did not become an official city until 1984. This fact may have a lot to do with the quaint, peaceful atmosphere here. The small fishing village became a tourist resort because of its amazing natural beauty and charm. The residents of Destin pride themselves in the fact that Destin has maintained this environment so well, yet has become a prosperous and enjoyable resort area.
Location:
The city is located on a peninsula separating the Gulf of Mexico from Choctawhatchee Bay. The peninsula was originally a barrier island. Hurricanes and sea level changes gradually connected it to the mainland. In the 1940s, it technically became an island again with the completion of the Choctawhatchee-West Bay Canal. Destin is east of Pensacola between Fort Walton Beach and Panama City.
Climate:
With an average temperature of 67.2 degrees, you will find the sub-tropical climate just perfect for many of your activities. The Southern winds create comfort and warmth that gently surrounds you. Destin has very few weather extremes and is moderate and beautiful year round.
• Carefree check in
• Private Beach Access
• Beach Pavilion
• Two Community Pools
• Tennis Courts
• Basketball Goals
• Shuffleboard
• Tram Service to the Beach
• Gated Community