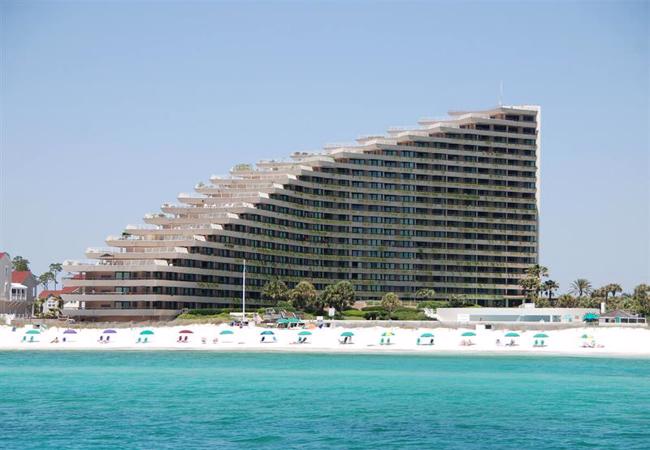 Edgewater Beach is a paradise on earth. The soft, warm, sugar-white sands of Edgewater Beach will call to your spirit and refresh your body. The moment your feet touch the magnificent sands of the Gulf, you will understand why travelers believe this is one of the finest beaches in the world. This property has established itself as one of the top Destin condo rentals. Here in Florida, you will feel that you have escaped to a different world.
The elegant inspiration for Edgewater Beach comes from the lovely resorts of the French Riviera. Our landmark resort offers spacious and open grounds and dramatic architecture as opposed to the dense condo towers found on the neighboring properties. Edgewater is all about rejuvenation, relaxation and escape on your terms. This is your home away from home.
You can transform your vacation experience with the fantastic amenities of Edgewater Beach. From pure relaxation to scintillating energy, Edgewater Beach is the ideal place for your entire family. Our Spas, pools, sports courts and private beaches with glistening white sand are waiting for your arrival.
Your Gulf-front condo is only a few steps away from the amazing turquoise waters and white sands of our private beach. Your Edgewater Beach condo offers you a breathtaking view of the Gulf of Mexico from the magnificent master bedroom and the spacious living area. Getting around the area is simple with well-lit garden paths and walkways, a private entrance for every condo and elevators.
Enjoy the entrancing panoramic Gulf views while relaxing in one of our clear pools. Enjoy those quiet moments with your friends and family on your comfortable terrace patio. Edgewater Beach will recharge you even though you feel as though you are home. Your condo has so many comforts such as a fully equipped kitchen, free wireless broadband internet, DVD players, televisions and a full-sized washer and dryer. Come enjoy the gorgeous Florida weather in an exclusive setting. For more resorts and vacation rentals check our other areas
INFORMATION ABOUT DESTIN
Located on Florida's Emerald Coast, the Destin area really is a treasure. Soft sand, crystal-clear water, pleasant weather, and a charmingly relaxed pace all make Destin an amazing place to visit. What began as a fishing town has now become a much-loved vacation spot for families and friends. Here is some background information to get you started as you plan to visit this enchanting spot:
Claims to Fame:
Destin was voted 'Best Beach in the South' and 'Top Family Destination' for nine years running by Southern Living Magazine readers. Also picked as the 'Best Beach in America' by USA Today readers.
History:
Destin has been inhabited for hundreds of years; first by American Indians as early as the year 600 A.D. and then by Spanish explorers. The modern Destin got its real beginnings in about 1845, when Captain Leonard Destin came here and lead the way for Destin's major fishing industry. Though people have been visiting and vacationing here for more than 150 years, Destin did not become an official city until 1984. This fact may have a lot to do with the quaint, peaceful atmosphere here. The small fishing village became a tourist resort because of its amazing natural beauty and charm. The residents of Destin pride themselves in the fact that Destin has maintained this environment so well, yet has become a prosperous and enjoyable resort area.
Location:
The city is located on a peninsula separating the Gulf of Mexico from Choctawhatchee Bay. The peninsula was originally a barrier island. Hurricanes and sea level changes gradually connected it to the mainland. In the 1940s, it technically became an island again with the completion of the Choctawhatchee-West Bay Canal. Destin is east of Pensacola between Fort Walton Beach and Panama City.
Climate:
With an average temperature of 67.2 degrees, you will find the sub-tropical climate just perfect for many of your activities. The Southern winds create comfort and warmth that gently surrounds you. Destin has very few weather extremes and is moderate and beautiful year round.
• Gulf Front
• Tennis Courts
• Community Pool
• Heated Community Pool
• Hot Tub
• Fitness Facility