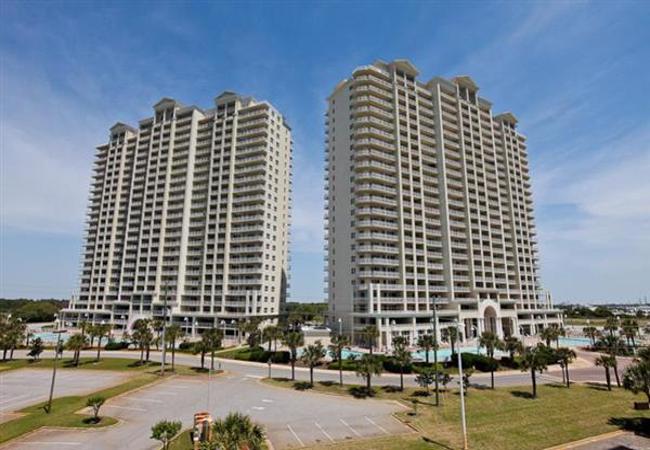 The condo rentals in Ariel Dunes are a popular and sensational destination for your vacation. The views of Choctawhatchee Bay and the Gulf of Mexico are gorgeous when seen from the area's two tallest and most magnificent towers. Both towers have luxurious units with your choice of one, two, or three bedrooms and incredible private balconies. The ceilings are a glorious nine feet in height and the kitchens have beautiful granite countertops. The beach access is convenient and leads to more than 2,000 feet of tempting crystal clear water surrounded by shimmering sugar sands.
The Gulf Coast in Northwest Florida is known for its emerald green waters and white sands that resemble soft white sugar. The beaches in Destin have been voted as the best for family vacations by the subscribers of numerous websites and magazines such as TripAdvisor.com and Southern Living. Your ResortQuest includes beautiful beaches, cozy cottages, luxurious condos, sensational private homes, and full-service resorts.
You will be within minutes of excellent golf courses and divine restaurants you can enjoy during your vacation. One of the most incredible factory designer outlet malls anywhere in the country is less than a mile away. Silver Sands will captivate you with the merchandise and amenities available in the mall. You will be situated in the gated community of the Seascape Golf and Tennis Resort with five luscious pools, eight tennis courts, 18 holes of championship golf, and a conference room perfect for any purpose.
You will be greeted by two stylish and distinctive towers and face south so your view of the beach will be delightful. The zero-entry pool is enormous and the shallow end boasts a mushroom fountain. The porte-cochère runs through the building and is so easy to recognize. The southwest orientation overlooks a coastline that curves in scenic fashion and offers night views of twinkling lights and sunsets filled with vibrant colors and hues. There is a glass elevator lobby on every floor with a beautiful view of Choctawatchee Bay and the Seascape golf course. The floor of the lobby is expansive and covered with amazing tile and above is a gracefully soaring ceiling. There is a fitness room, a sauna, and a steam bath to choose from.
There are 12,000 square feet of pools filled with clear and refreshing water scattered about. Only a few yards away in the second tower are an additional 11,000 square feet of majestic pools to enjoy. The pools are so large both guests and owners can enjoy them. The penthouse condominiums are elegant on located on the 24th floor. The panoramas make you feel like you are standing right at the top of the world. You can also check out other Destin Area rentals.
Interior Unit Features:
•Private balconies
•9 foot ceilings (approximate)
•Ceramic tile in entry foyer, hall, kitchen and baths
•Fully carpeted bedrooms and living areas
•8 foot sliding glass doors to the south balcony
•Raised panel kitchen cabinetry
•Granite kitchen countertops
•Refrigerator with ice maker
•Self-cleaning oven/range
•Dishwasher
•Built-in microwave
Ariel Dunes Community Features:
•Breath taking views of the Gulf of Mexico
•Spectacular views of Choctawhatchee Bay
•Ground floor lobby and registration
•Drive-through main entrance
•Expansive pools in excess of 24,000 square feet
•Convenient beach access
•Onsite Restaurant and Bar
Seascape Community Features:
•Convenient beach access to over 2,000 feet
of powder white sand & emerald green water
•18-hole championship golf course with Pro shop
•Eight tennis courts
•Five Pools
•On-site Conference Center
•Fresh water lakes
•Beach service
•Whales Tail Beach Bar & Grill – seaside dining & live entertainment
•Water sports rentals including chairs and umbrellas