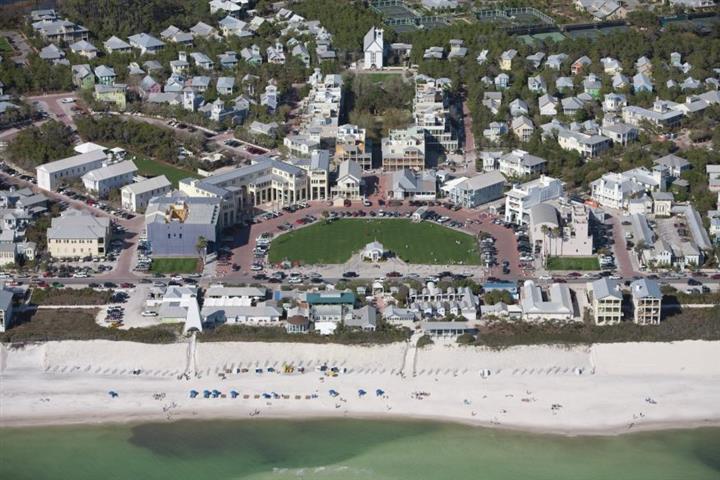 The idea behind Seaside came from 1946, when the grandfather of future founder Robert S. Davis bought 80 acres of land along the shore of Northwest Florida as a summer retreat for his family. In 1979 Davis inherited the parcel from his grandfather, and aimed to transform it into an old-fashioned beach town, with traditional wood-framed cottages of the Florida Panhandle.
Three decades ago the town of Seaside was established. And that is part of the magic of Seaside. It is a town. Complete with everything you need for your vacation without ever having to venture beyond the town limits. It is charming, graceful, eclectic, authentic, romantic. But Seaside isn't just any resort town. It's a place where family and friends can connect with one another and with the beauty that abounds in this special corner of the world. Seaside is not a cookie cutter beach resort.
There are several pools, a fitness center and other beach resort amenities available, but Seaside is much more than just the amenities. It is a unique experience that not only changes the way a vacation is experienced, it changes the way a life is experienced. Seaside is a simple and beautiful way of life.
Seaside offers a thriving town center with shopping and dining, all within walkable distance to homes, cottages, and offices. Consisting of more than 300 homes, the community also offers an abundant assortment of restaurants, shops, and galleries. Located Walton County, FL between Grayton Beach and Seagrove Beach
From the start, Seaside's downtown has been an important part of its development. All its residences are within a five-minute stroll of the town center, so that the necessities and the pleasures of daily existence can be easily accessed by foot.
The houses are different from one another, but by using similar building forms and materials they speak a common language. Adherence to indigenous materials and to the region's building tradition gives the town coherence and a strong sense of place.
Seaside's urban elements, its layout and the design of its streets, appear in nearly all American and European small towns. Other qualities, such as its front porches and native vegetation, singularly place it in the Northwest Florida region. The streets were designed with pedestrians in mind. Their narrowness forces cars to slow down, increasing the safety of those on foot, while brick paving creates a comfortable surface to tread on. In addition, a grid of sandy footpaths behind and between the cottages links the entire town, to make traversing it more manageable.
By design, Seaside has no private front lawns, and only native plants – no sod – are used in the yards. This plan makes for an environmentally friendly landscape, with no herbicides and pesticides, no underground irrigation systems, and no intrusive lawn mowers.
With quiet small town charm, romantic serenity, endless natural beauty, art and culture, and easy access to panhandle communities to the east and to the west, Seaside is an idyllic setting for a home or vacation retreat. This community is perfect for families, couples, and retirees looking for a quiet retreat. Also if you're interested in other rentals, take a look at our 30A rentals.