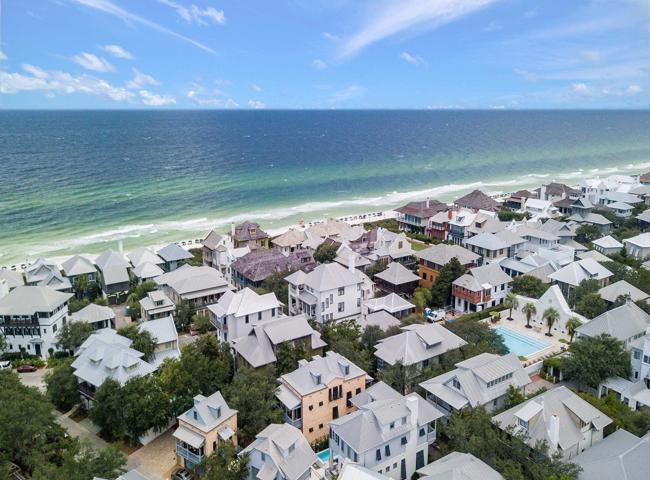 Maybe it's the wide-open porches wrapped around every home. Maybe it's the "French Quarter" feel of Town Center's shops and restaurants. Maybe it's the boardwalk promenades and secret pathways that wind between the carriage houses and cottages.
Architecturally beautiful and lively, Rosemary Beach, this neo-traditional beach community mixes New Urbanism – the design style that places everything within a short walk of town center – and West Indies style with pristine beaches, a bustling town square, and award-winning restaurants. Rosemary Beach was named one of "America's Most Romantic Small Towns" by CNN, which comes as no surprise to anyone who's wandered its winding paths and cobblestone streets, or dined al fresco in its welcoming patios and courtyards.
Brick sidewalks line the neighborhood's Main Street and town square, enticing guests to delve into the locally owned shops and boutiques where fashions and fun mix and mingle. From fine dining at Edward's to indulgent desserts at La Crema, there are no shortage of opportunities for foodies to enjoy world-class dining. Families flock to the casual and pleasing cuisine of The Summer Kitchen Cafe, Edward's Fine Food And Wine, Pescado Seafood Grill & Rooftop Bar, and Cowgirl Kitchen where favorite meals become an important mainstay of vacation tradition.
Whatever it is, a visit to Rosemary Beach is a trip inside a close-knit social community, with days on the beach or at one of four swimming pools, and evenings relaxing on the porch, with time spent browsing through boutiques and galleries and dining al fresco. Rosemary Beach is the perfect place to both relax and connect in South Walton.
The expansive greens of Rosemary Beach welcome groups of family and friends and are adorned with public art as well as host to a weekly farmer's market. Exploring deeper along the winding streets of Rosemary Beach will reveal a treasure trove of inspired architecture, as well as a scattered and delightful collection of sculptures from artists around the world.
Rosemary Beach and all the other surrounding communities are a great place to vacation any time of the year, take a look at all the other rentals we have to offer.