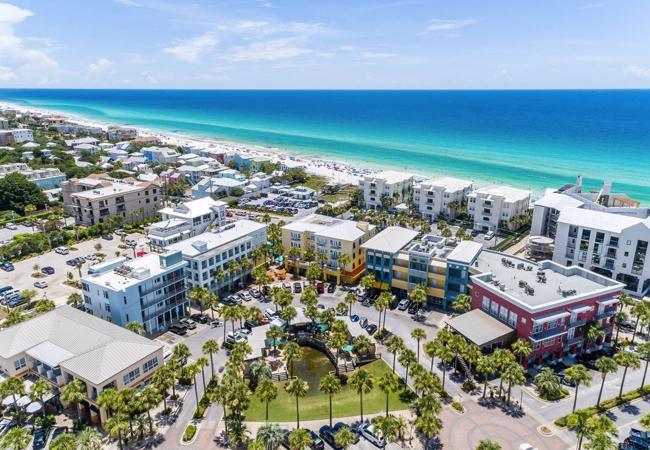 Gulf Place in Santa Rosa Beach is the complete vacation spot with rental condos, swimming, tennis, dining, shopping and the beauty of the clear, turquoise waters of the Gulf of Mexico. An oasis at the intersection of CR 30A and CR 393, Gulf Place is located in the heart of northwest Florida's Scenic 30A Corridor and mere steps from its white, sugar-sand beaches.
Gulf Place has a number of amenities-all right on the property, from the walking trails and shuffleboard courts nestled into the trees to the Park Pool and tennis courts. You can enjoy a very active vacation filled with activities or simply relax and unwind while lazing by the pool or on the beach.
This beautifully designed community surrounds a manicured amphitheater with a Town Center and several low- and mid-rise residential buildings. More than 200 vacation condos offer a variety of accommodations, many with views of the Gulf, ponds, and our three swimming pools. Sidewalks are lined with lush native plantings and towering palm trees. And when darkness falls, soft lighting illuminates inviting nightspots.
Gulf place is comprised of Cabanas, Condos, Townhomes and an Inn
• Beach Access
• Community Pool
• Walking trails
• Shuffleboard courts
• Tennis Courts
• Amphitheater