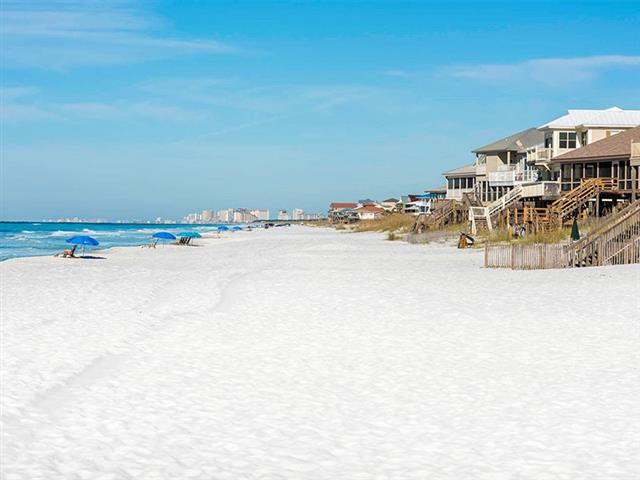 Just West of Blue Mountain Beach community and Santa Rosa, is Scenic 30-A's Western-most beach town, Dune Allen. With three coastal dune lakes, the 1600 acre Topsail Hill State Preserve, and some of Scenic 30-A's most notable restaurants and public beach accesses, Dune Allen Beach is the perfect place for nature lovers and serenity seekers to go for a refreshing getaway. Dune Allen is a place where lake and beach unite. Dune Allen surrounds Lake Allen and Oyster Lake, two of our rare coastal dune lakes, which are unique to this part of the world. Coastal dune lakes are so rare that they are only found in the Beaches of South Walton and remote portions of Africa and Australia.
These waterways have the highest occurrences of rare wildlife species in the state, some of which are found nowhere else in the world. Oyster Lake is actually shaped like an oyster shell, and was once filled with oysters. There is a lovely walking bridge that transects the lake – it's a great spot to shoot from if you are a photography buff.
Dotted along Scenic 30-A in Dune Allen, you will find tiny cinder-block houses perched high on a sea dune right next to modern stucco structures. Weathered and refurbished wooden beach homes stand tall on pilings and are a reminder of how simple life was when Scenic 30-A was a sleepy beach escape.
The history of Dune Allen is evident in its architecture. Amid the towering new beach homes are little concrete cottages tucked amid the dunes. These harken back to the days when Dune Allen was a popular holiday spot. Dune Allen is one of the most historically significant beach towns on Scenic 30-A. It is home to Stallworth Lake, which until the early 1900's flowed freely from the Choctawhatchee River to the Gulf of Mexico. Much like many modern-day locals, people came to vacation around the geographical rarity, and decided to stay for a lifetime.
Old timers tell tales of families who would come for picnics along the shores of Oyster Lake to find the water level too high. So, the men would grab their shovels and dig a trench from the lakes edge to the Gulf. The water would rush into the Gulf and the families would once again have a pretty shore to picnic. Of course, you can't do that nowadays. While the lake is usually open year-round to the Gulf at Oyster Lake, altering nature and digging trenches for better picnics is not cool.
Dune Allen is surrounded by, and is actually part of, Santa Rosa Beach. You reach Dune Allen from US 98 by traveling south on Scenic Highway 393 and then turning right on to Scenic 30A. At the end of 393 is Ed Walline public beach access with parking, restrooms, and picnic facilities, all directly across from Gulf Place condos, shops and restaurants. Home to many quaint neighborhoods and planned developments; Dune Allen Beach has something to suit just about any taste and budget