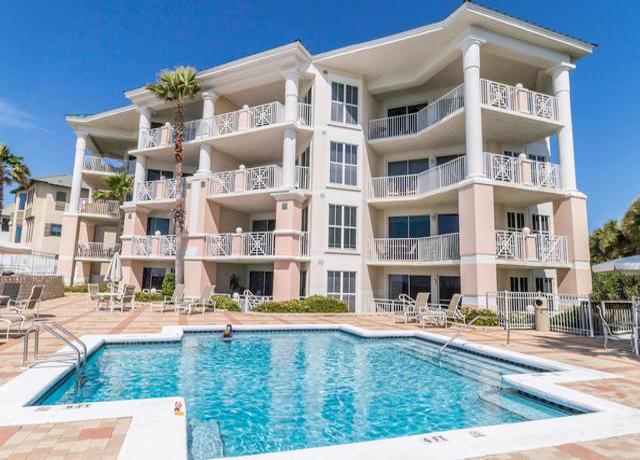 Hidden between the beautiful White Cliffs and The Retreat off County Road 30-A, is the secluded and welcoming Blue Lupine, formerly known as the Inn at Blue Mountain Beach. This secure and private property offers spectacular views of the Gulf and a gorgeous beachfront scene from your condominium, with tropical landscaping on one side and quiet upscale neighborhoods of single-family homes on the other. The homes are provided with expansive covered decks perfect for dining, as well as a lounging area for relaxing by the shore after a fun day at the beach.
This wonderful retreat offers so many amenities for only 48 condominiums that include a Gulf front pool and hot tub, direct gated beach access from the pool vicinity, and a completely equipped exercise room. Wireless internet, gated garage, 50' sky-lit atrium with a tropical motif, on-site security during the high season, elevators in the lobby and garage, and a community grill at the lobby entrance are all part of this charming private beachfront property.
With the ambiance similar to the French Riviera, there is a hot tub and a heated swimming pool situated up above the dunes with magnificent vistas of the glistening waters of the Gulf. The huge deck space is laid out with beautiful Italian pavers furnished with lounge chairs and covered tables, ideal for relaxing while enjoying the views. The alluring seaside just steps away is provided by a private beach access. Also included are the community barbecue, a fitness center, under building parking lot, and two conference rooms.
Just 20 to 30 minutes east of Destin, Blue Mountain Beach is only 20-30 minutes west of Panama City Beach, which has numerous dining, shopping, and recreation selections, including Baytowne Wharf, Destin Commons, Silver Sands Outlet Mall, and the new Pier Park complex. From Destin to Panama City, there are many fishing charter companies and golf courses as well. And effortlessly situated in Blue Mountain is the 30A passage where there are several bike and kayak rental shops.
These stunning condo are the perfect getaway any time of the year to enjoy a peaceful and relaxing haven, or you can take a look at our other 30-A units.
INFORMATION ABOUT SANTA ROSA
Founded in 1910, Santa Rosa Beach has a rich history. This long-standing vacation destination remains a hotspot for visitors years later
Located along a 26-mile stretch of Northwest Florida's famed Emerald Coast, Santa Rosa Beach is just one of the 16 distinct beach neighborhoods in south Walton County, each with its own traditions, charm and visual style. The community of Santa Rosa Beach offers luxury beach houses, upscale dining, and the unique artist colony known as Gulf Place. Santa Rosa Beach provides several entrances to Point Washington State Forest, a 15,000-acre preserve with more than 10 natural communities. In fact, all of South Walton is renowned for natural scenic beauty, turquoise waters and sugar sand beaches, including one of Travel + Leisure magazine's "Best Beaches on Earth" for families.
Santa Rosa Beach's sugar-white sand and turquoise water draw in vacationers from around the world; retreats like Point Washington State Forest attract those searching for an all-natural escape. Delicious dining, boutique shopping, and family-friendly attractions round out this lively beach neighborhood.
One thing visitors love about Santa Rosa Beach is its mix of old and new — for example, historic Eden Gardens State Park is located only a short distance away from The Bay, a modern restaurant with a Southern-Asian twist. Named as Google's eCity of Florida for 2013, this historic beach neighborhood is also a modern business hub.
See what Santa Rosa Beach has in storhttps://www.bestbeachgetaways.com/our-areas/beaches-of-south-walton-30a-vacation-rentals/e for you by booking a stay in this beautiful beach neighborhood. Whether you're after a contemporary beach home or a cozy cottage, Santa Rosa Beach can meet your needs — and if you're looking for a perfect getaway, Santa Rosa Beach will exceed your expectations.