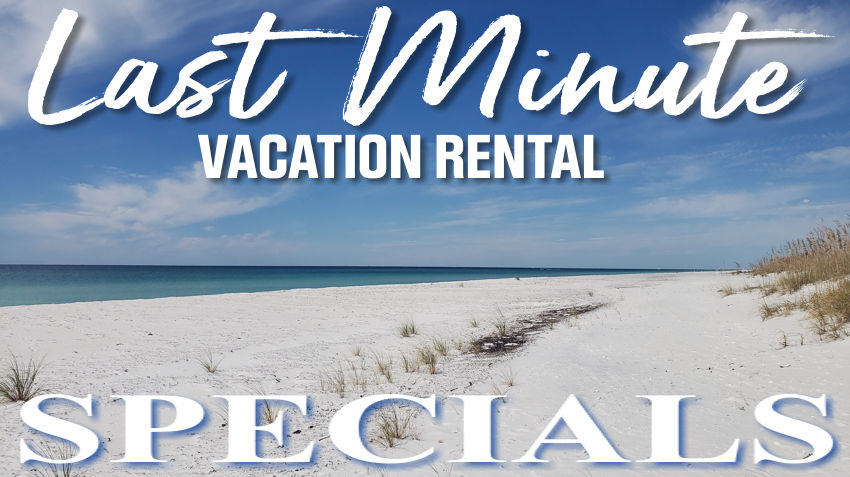 Last Minute Vacation Rental Specials

To get these great rates you must call our reservations team
888-567-5150
No Service Fees! Book with us and save!

To make the most out of your experience, here is a list of fun and exciting beach activities. So put on your beachwear and sunscreen, and let's dive into the beach fun adventures!
BUILD A SANDCASTLE
Although it can be quite hard for beginners, building a sandcastle is one of the most enjoyable activities that people of all ages can do on the beach. Plus, it can be a great bonding moment with your family or friends, not to mention it can also put your creativity and skills to the test!
BURY SOMEONE IN THE SAND
A popular tradition for beachgoers everywhere is getting buried in the sand from the neck down. And for the experienced builders, you can also make a sand sculpture of a turtle or something else around their head. Just be careful and try avoiding digging where the water can reach you to avoid any accidents.
CELEBRATE A SPECIAL OCCASION
From spring breaks to birthday celebrations to weddings and romantic honeymoons, name it, the beach is one of those places where the vibe just perfectly fits any special occasion.
COLLECT SEASHELLS OR ROCKS
As far as affordable activities on a trip go, you can't get a much cheaper one than collecting seashells and rocks—it's free on most beaches.
COLLECT DRIFTWOOD
If you want to collect something other than seashells, why not try getting some driftwood by the beach instead? If you are good with your hands, you can even turn driftwood into lovely home furniture like a chair, a table, and so much more!
DAYDREAM
It's almost too easy to daydream while at the beach, especially on a quiet day. Add to that the sound of the waves and the birds, and the clouds lazily floating by, and you'll find your mind drifting with them as well.
INDULGE IN FRUITY DRINKS
A day at the beach is never complete without sipping on some fruity tropical goodness at a beach bar, whether it be fruit punches, coconuts, piña coladas, and more!
You can even prepare your fruity mix at home if you have a small cooler!
EAT SEAFOOD
What better place to indulge in some fresh seafood than on the beach? Just imagine munching on some crabs or grilled shrimp, and don't forget the catch of the day -- this means the freshest fish.
Add to that the beautiful ocean view and some drinks to go with your meal, it will be an absolute paradise.
ENJOY A BIG SCOOP OF ICE CREAM
Nothing beats the heat on the beach, especially on a hot summer day, then a big scoop of some good old ice cream! It is certainly a favorite among beachgoers young and old, I mean, who couldn't resist snacking on this cool delectable treat?
FLY A KITE
Another fun thing to do at the beach is to fly a kite. Typically, the local shops are filled with different kinds of kites for you to choose the one that's most to your liking – or you can even make your own, or you can also buy one online.
GO OCEAN FISHING
Unlike fishing on a lake or river, ocean fishing (also called deep-sea fishing) will require nerves of steel and some level of strength due to the size of fish in the deep parts of the ocean. Even though it is challenging, it can be a thrilling experience!
HAVE A BONFIRE PARTY
A bonfire can add incredible ambiance to any party, especially on a warm Summer night on the beach. So, invite your friends, load up your cooler with beverages, and bring lots of wood and radio to play your favorite tunes. Please check local ordinances, not all beaches allow bonfires. There are some companies that will set up a beach bonfire for you -- at a cost of course.
HAVE A BEACH PICNIC
Pack a traditional wicker basket with your favorite picnic foods and enjoy the feast as well as the weather.
HIT UP THE BEACH BARS
Having fun at the beach does not stop when the sun goes down. For some, the fun is just getting started! From drinking a glass of your favorite cocktail to socializing with family and friends to eating delicious snacks and food, a beach bar is a great place to hang out after a long day at the beach.
RENT A JET SKI
For those who love high-speed thrills and adventure, you will definitely love jet skiing! Whether you are coasting the waters of one of the best jet ski destinations in the US alone or with family or friends, riding one of these will make you feel like a star in your own movie. It usually costs around $80 to $100+ per hour on average, along with other requirements before renting one, so be sure to check it out in advance.
LOOK FOR DOLPHINS
Getting to see dolphins in their natural habitat is one experience you should not miss when at the beach. Usually early in the morning or a couple hours before sunset you can spot dolphins from the shore, or better yet, if you are in a beachfront condo.
PAINT ROCK AND SHELLS
While combing the beach, you might come across empty seashells and small stones along the way. With some acrylic paint and a little bit of creativity, you can turn them into colorful pieces of art!
Not only are they pleasant to look at, but they can also serve as a remembrance of your trip to the beach.
PLAY BEACH VOLLEYBALL
With scenic ocean views, the sun sprinkling down some vitamin D on your skin, plus friendly company, it's no wonder people love a game or two of beach volleyball. Yes, it can be a bit hard (and tiring) to move on the sand if you are a beginner. But most of the time, you won't even notice it, especially if you are having fun!
PLAY A BOARD GAME
Some people may think board games are boring, but they can be a lot of fun especially if you have the perfect game and partners to play with. If you prefer a more chill day on the beach, having a board game marathon with your favorite games could be fun. You can make it even more fun by adding prizes for the winner.
THROW A FRISBEE
Playing frisbee is another sporty activity to commit to on the beach, whether that means putting together a group of people for a round or two of ultimate frisbee or just tossing it back and forth with a close friend while enjoying the sound of the waves.
WALK THE BOARDWALK OR THE PIER
Going on a walk on boardwalks or piers is a great way to take a break from the beach while still getting to enjoy what the surrounding area has to offer.
PLAY TIC-TAC-TOE IN THE SAND
A game of tic-tac-toe is easy enough for everyone (including kids) to enjoy and play while taking a break for the more challenging activities ahead.
READ A BOOK
If you are an avid reader, then those warm summer evenings on the beach make for some of the best times to just sit and enjoy a great book.
JUST RELAX
This is one of the best things to do at the beach! Everybody deserves a break every now and then, and the beach is one of the perfect go-to places for having fun and just relaxing. You can lie down on the sand or beach chair, close your eyes, and be present in the moment. Let your worries and distractions slowly melt away under the sun or go with the ebb and flow of the waves.
HAVE A WATER GUNFIGHT
Nothing beats cooling down while having fun splashing water at your family and friends while in the water. For added fun, be sure to bring along some water guns with you and start a water gunfight!
You can even use the water guns to do variations of games like water gun tag and more.
TAKE A STROLL
There are times when we have to slow down and breathe, and a quiet stroll alone or with someone along the beach is perfect for this. No rush. Just let your senses take in the ambiance and take in the moment.
WATCH THE SUNSET OR SUNRISE
Getting to watch the sun rising or setting on the horizon in a place like a beach is simply breathtaking.
GO BODY SURFING
If this is your first time hearing it, bodysurfing involves riding a wave without using any surfboard or bodyboard. Though it is slightly 'easier' to learn compared to traditional surfing, it still requires a certain fitness level since you'll be the one acting as the 'board' that rides with the wave.
MAKE SAND ANGELS
Making a snow angel on fresh snow is one of the most popular things to do in the winter season. But at the beach, especially during the summer months, they also have their own version of this Christmas tradition: making sand angels! Much like how you would make a snow angel, you just have to find a spot on the beach where you can smoothly move the sand around, lie down face up, and start swiping with your arms and legs!
LOOK FOR SHAPES IN THE CLOUDS
Let your imagination run wild and see what shapes you can make out of the clouds, especially during a bright sunny day with fair weather.
DIG A HOLE!
There's just something about digging in the sand that makes it fun and satisfying, especially for kids. It can be building some sand art, looking for some buried 'treasure,' or even just building a trench for your sandcastle. A good rule of thumb for digging holes in the sand is for it to be no more than knee-deep to avoid any accidents. And be sure to fill them up again afterward.
TOSS A BEACH BALL AROUND
Passing around a beach ball while in the water is a great way to break the ice in a group or as a warm-up for the more challenging activities you will be doing. Plus, it just screams fun and is quite irresistible not to bring it back up in the air.
RIDE A BOOGIE BOARD
A boogie board (also known as a bodyboard) is a small rectangular piece of hydrodynamic foam that you can use to ride waves without standing up like in surfing.
Since it is smaller in size, it is easy to bring with you along the beach, plus it will also help you get surfing fundamentals down if you are just starting out, which can also carry into surfing with a surfboard.
GO PADDLEBOARDING
Paddleboarding is simple enough for beginners to pick up while still opening you up for more challenging water sports in the future, like surfing or kayaking.
If you are still learning, try finding a spot where there are not many waves. Once you get the hang of it, you can slowly paddle yourself around the beach or even catch some small waves!
JUMP WAVES
It's amazing how even the simplest activities can make us feel the fun and excitement of being on the beach, such as jumping waves! It can also be a great bonding moment with the kids, letting them jump or even carrying them up just before the waves touch them. The laughter and the giggles that come with it… Priceless!
A day or two filled with beach activities is one of the most memorable things that we get to experience in our lives. With a fun, relaxing atmosphere, picturesque views on land and under the sea, and plenty of things to do at the beach, it's no wonder people will keep coming back for more.
So, what are you waiting for? Get yourself that much-needed dose of vitamin "sea" and start checking off items from this list!
If you are looking for things to do while on vacation at the Emerald Coast see our Best Things Lists;