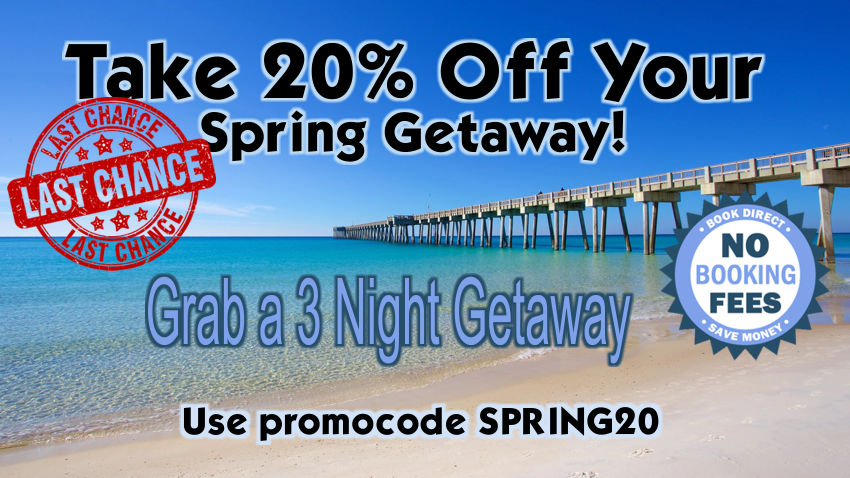 Last chance to use "SPRING20" Promotion Code and save 20% on most of our rental properties for any stays between TODAY, and MAY 25, 2023.
The SPRING20 Promotion code is valid until May 23, 2023
SPRING20 Promotion Code NOT available for Anna Maria Island Rentals.
More Flexibility = More Fun this Spring!
Browse plenty of options for 3+ night stays.
Book your Best Beach Getaway!
May not be available on all units.
Book NOW! and take 20% Off Your Spring Break Vacation
 Just pick your dates between TODAY, and May 25, 2023, and use promo code "SPRING20" in the discount code box and you save 20% on the rent on most of our rentals.  Please note that this special promotion is offered on a first-come, first-serve basis. So, don't wait around or your perfect dates may be gone.  Promo code SPRING20 is valid until May 23, 2023.
 Only applies to new reservations, and cannot be used on existing reservations.
10 Things To Do During Spring Break.

If there's one thing we've learned in 2020, it's to make every moment matter.  So while you're planning your 2021 Spring Break Vacation make sure you include one of these ideas to make an even better Spring Break memory:
Rent a Pontoon Boat for a day. Being out on the water makes the whole vacation better.  If you're staying in Panama City Beach, go to funpcb.com They've got pontoon boats and all kinds of watersport activity equipment.
Enjoy Deep Sea Fishing. As long as you're here, you might as well catch your dinner.  There's great deep-sea fishing you can enjoy all over Florida.  If your staying on Anna Maria Island check out AMI Charters at amicharters.com.  In Destin, it's Destin Party Boat Fishing, www.destinpartyboatfishing.com If you're staying around Panama City Beach, try
Zip around on the golf cart. Sometimes it's easier and more fun to use a golf cart to get around than your car.  And there are plenty of golf cart rentals around no matter where you are on the Emerald Coast.  If you're in Destin we'd suggest you check out Destin Elite Golf Cart Rentals destinelitecarts.com Their carts are six seater street legal.  All the carts are brand new and each one has a name.  Pretty cool.
Paddleboarding or kayaking on the lakes and bays. While some folks like to paddle board on the gulf, the bay and lakes provide a much more serene setting with calmer waters.  Find your paddleboard rental at vaykgear.com/30a if you're staying on 30A.  In Panama City Beach try Fun PCB www.funpcb.com In Destin, check out www.destinkayakrentals.com On Anna Maria Island it's AMI Beach Fun Rentals, www.amibeachfunrentals.com
Go visit the Dolphins. The gulf coast has dolphins galore.  Take the family on a Dolphin cruise and enjoy the sea life experience.  In Destin you'll find Destin Dolphin Cruise, dolphincruisedestinfl.com In Panama City Beach, it's FunPCB www.funpcb.com On Anna Maria Island, you'll find Captain Kaithe, www.captkaithe.com
Have a bonfire on the beach. If you want the family to have great evening experience, try a bonfire on the beach. The regulations around bonfires are pretty strict so you need to use a company that specializes in them and meets and the local regulations.  Find out more at Bonfires on the Beach, bonfiresonthebeach30a.com Sorry.  Not allowed on Anna Maria Island.
Take a helicopter ride. Want to see the beach from a whole new perspective, grab a ride on a helicopter.  They'll take you up and down the beach and you'll get a fantastic view of what makes the gulf coast special.  Panhandle Helicopter is the place to go, panhandlehelicopter.com if you're on the Emerald Coast. On Anna Maria Island, it's Florida Suncoast Helicopters, www.floridasuncoasthelicopters.com
Get that family portrait done. There's no better way to make your 2021 Spring Break trip a family memory than with a family beach portrait.  And you'll find lots of great photographers that specialize in creating that memory with you.  There's so many great ones out there just take your pick.
Head to a State Park. The gulf coast of Florida has so many state parks.  You pick.  And enjoy.  Try St. Andrews State Park in Panama City Beach, Henderson Beach State Park in the Destin area, Grayton Beach State Park on 30A, Lake Manatee State Park in the Bradenton Beach/Anna Maria Island area. Find the all at floridastateparks.org
Try a little Yoga on the Beach. Want to find your inner peace?  Yoga on the beach might just be the perfect way to do that.  Mermaid Heather can get you going on 30A and Panama City Beach, mermaidheather.com .  If you're in Destin, Beach Yoga is the place for you, www.yogadestin.com On Anna Maria Island, try Salty Buddha Paddle and Yoga Company, www.saltybuddhaco.com
There's so many things to do that we didn't cover, so start now and make your Spring Break bucket list.  And don't forget to book your vacation rental right here:  www.bestbeachgetaways.com
If you are looking for things to do while on vacation at the Emerald Coast see our Best Things Lists;