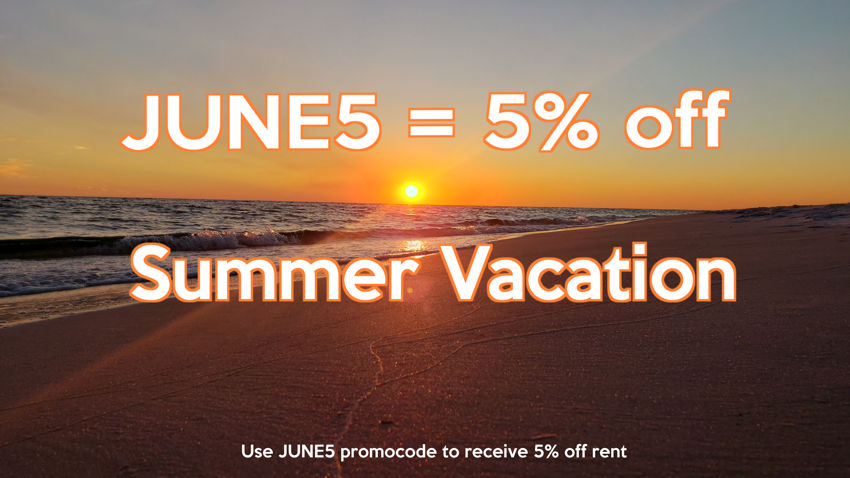 "JUNE5" Promotion Code offers 5% discount on all our rental properties for stays between June 01 and June 30, 2022.
The JUNE5 Promotion code is valid until May 31, 2022
Book NOW! to receive 5% discount
Get back to the beach by going back in time
Disconnect digital devices and enjoy the beach
No Service Fees! Book with us and save!
Just pick your dates between June 01 and June 30, 2022, and use promo code "JUNE5" in the discount code box and you save 5% on the rent in any of our rentals. Please note that this special promotion is offered on a first come, first serve basis. So, don't wait around or your perfect dates may be gone. Promo code JUNE5 is only valid until May 31, 2022
Only applies to new reservations, cannot be used on existing reservations.
Get back to the beach by going back in time.
Remember summertime when you were a kid? The possibilities were endless, and the days lasted a lifetime. The epitome of a summer day was being on a beach and posting all your activities on Instagram while your best buds ignored you to play games on their iPhones. No? Is that not the childhood summer you remember? Right, most of us didn't even have an internet connection when we were kids let alone constant-companion pocket-computers.
Even though tech has only become pervasive in the past 15-20 years, it's hard to imagine a time without it. But these days there's a pervasive theme that's popping up for all the tech-dependent millennials and gen-Xers: the desire for the digital detox or digital free vacation.
More and more people are taking time from the technology overload of the modern age and returning to nature to connect with the inner self. Some may have forgotten what it's like to have an attention span, but others have recognized the anxiety-inducing effects of being perpetually connected and need a break from it all. It's important to think about what it is that people are trying to reconnect to. For most, it's slowing down, taking time with friends and family, and living in the present. And for those that grew up in the pre-digital era, the epitome of living in the present was being a kid, in the summer, at the beach, with nothing to do.
The habit in need of the most reform these days? Tech usage.
Research confirms that the way the brain responds to technology is similar to that of other addictions – like sugar and smoking. And if you've ever tried to wrestle that iPhone or tablet away from your kids, you know firsthand that screen-time is reaching new highs and time spent in nature is reaching new lows.
Beach vacation can serve as a much needed "reset" to reignite children's' curiosity with the natural world. So, this summer beach vacation, pack up and unplug
Tech-free Time
Ready for a family vacation that gets you away from screens and takes you back to nature? Head to the Emerald coast, in the Florida Panhandle for a beach getaway that everyone will love. The miles of sugar like sandy beaches offer stunning ocean views and gorgeous sunsets. As you walk along the beach, you'll hear the peaceful sounds of the soft wind, rolling waves, and cawing seagulls. The sand is there for so much more than just getting into your food and the lining of your swimsuit. Kids manage to find all sorts of things to do with sand to turn the beach into a playground of endless possibilities. Spend time in the town center for access to quaint shops and plenty of restaurants.
As a kid, there's no reason to lament the end of beach day. As children tend to live in the present, all that exists is that moment when your skin is warm from the day's heat, and you have nowhere to be but in this magic hour moment — except soon there may be dinner before going to bed and doing it all over again tomorrow. No email notifications found here.
If there's one thing that makes summer at the beach all the more memorable, it's when you're accompanied by your best pals or a slew of siblings. There's a camaraderie that comes about when you spend all day with the same group of friends, making up games, jumping off things, eating ice cream, and burying each other in the sand.
Make time to unplug as much as possible, make it a priority and this could be your Best Beach Getaway!
If you are looking for things to do while on vacation at the Emerald Coast see our Best Things Lists;