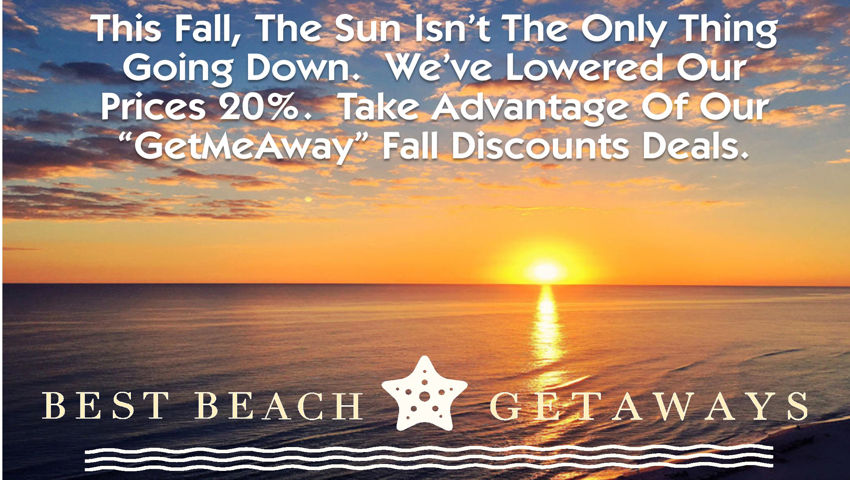 Fall is the perfect time to visit our Beaches. Our "Get Me Away" promotion continues to be popular among our valued guests, so we keep adding even more units to it. Pick any date that's available from October 15th to November 30th and use the promo code "GetMeAway" We're offering a 20% discount on these fantastic vacation rental properties.
Just pick your dates and use promo code 'GetMeAway' in the discount code box and you save 20% on the rent in any one of these super rentals. Please note that this special promotion is offered on a first come, first served basis. So, don't wait around or your perfect dates may be gone.
Only applies to new reservations, cannot be used on existing reservations.

Why You Need to visit our Beaches in the Fall.
Fall is one of the best times of the year for many reasons. A few of the biggest reasons include food (pumpkin spice everything), football, and family and friends.
But in the Emerald Coast, fall also means white sandy beaches, surprisingly warm waters, and sipping your favorite beverage at the oceans edge. Indeed, when you visit our beaches in the fall you get something that is truly special. Annual events, perfect weather and a boatload of great attractions minus the summer crowds make for the perfect fall trip and more beach relaxation for you and the family!
Fall Festivals
As the leaves begin to change colors for most of the country, we gear up to host some of the best festivals on the Emerald Coast. From music to food to jolly pirates, a trip to the Beach in the fall means social gatherings aplent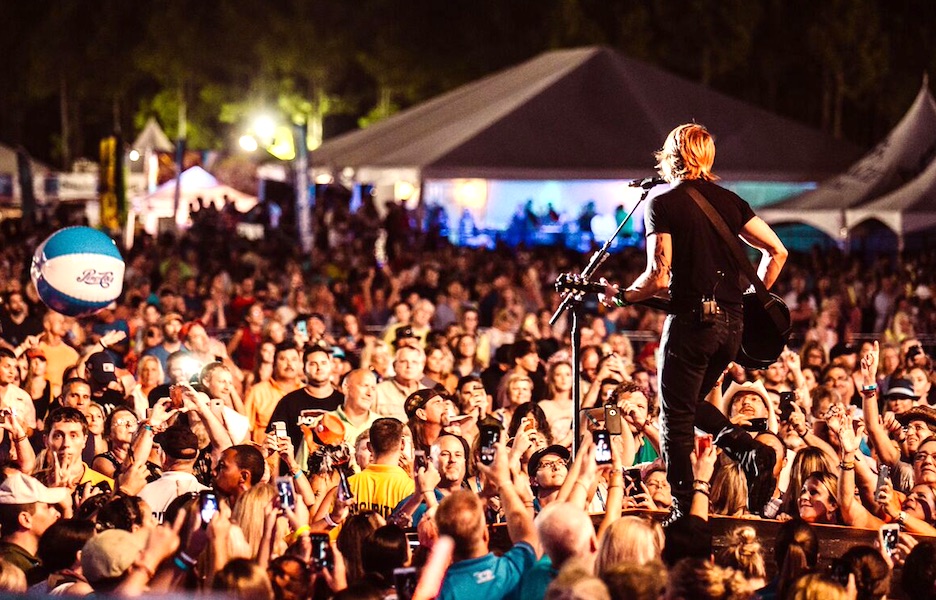 y. Fall offers the perfect chance for unforgettable moments with family, friends, or beach-bound couples.
The popular Destin Seafood Festival takes place in October and includes entertainment, shopping, and tons of delicious food. There's also the Baytowne Beer Festival, which is known as the "Best Beer Fest on the Emerald Coast." The event includes more than 40 on-site craft brewers, samplings, live music, and more. Then, there's the Destin Fishing Rodeo, the Harvest Wine & Food Festival, and the Blues, Brews & BBQ Festival.
Weather
Fall at the beach is its own brand of beauty. The pace of the waves and clouds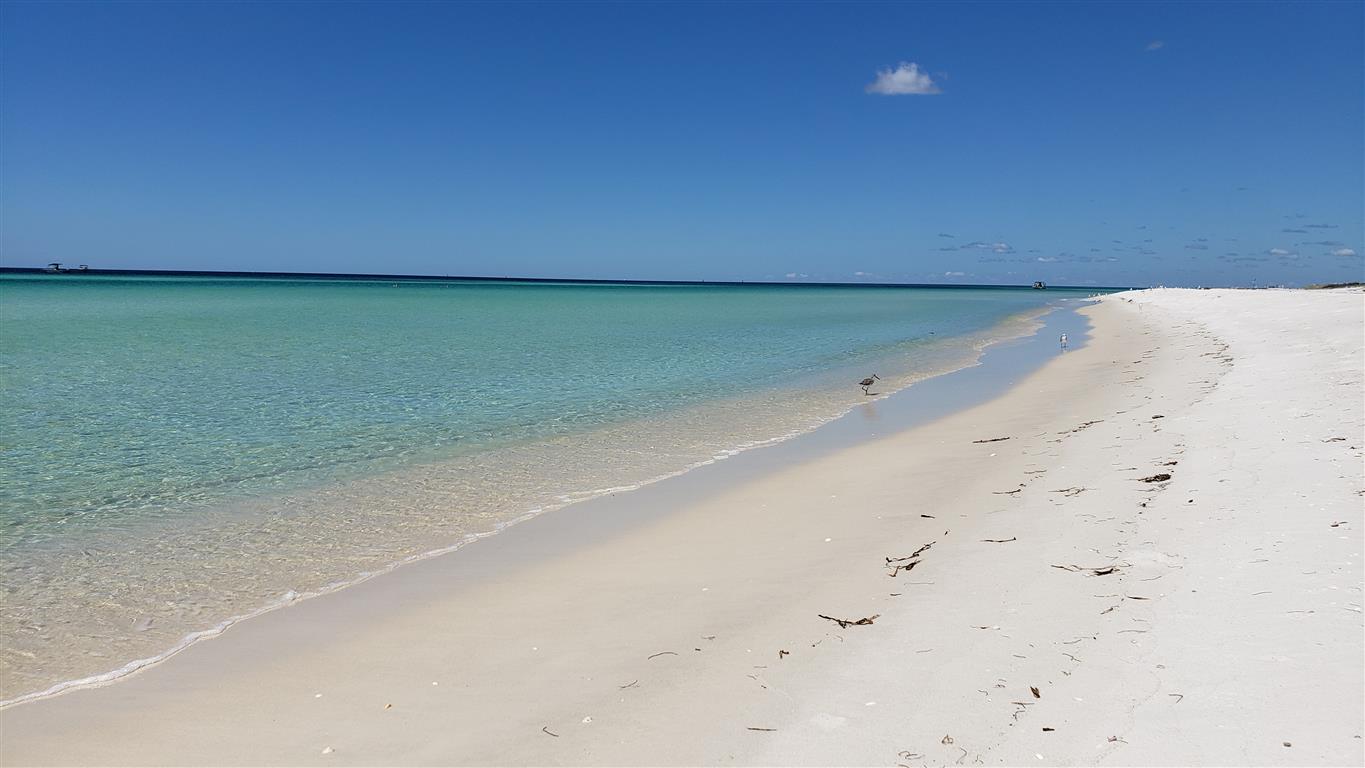 change, and everything starts to slow down. Even better, average temperatures in the 80s mean that it's also plenty warm for beach activities, but cool enough to hang out by the water without overheating.
Mild weather makes for great dining and drinking outdoors, too. Relax at one of Panama City Beach's many great beachside restaurants and bars, check out a live show, or sip a cocktail aboard a dolphin cruise as the sun fades beyond the waves. Oh yes, and speaking of sunsets, the drop in humidity in the fall brings plenty of clear nights--perfect for watching the sun rise or set.
Small Crowds
As summertime comes to a close, plenty of folks begin to shift their sights toward adventures into the mountains or ski hills. That means fewer people at the beach to compete with for parking, lodging, and relaxation. When you think of reasons why you need to visit Panama City Beach in the fall, this one is as big as any of them.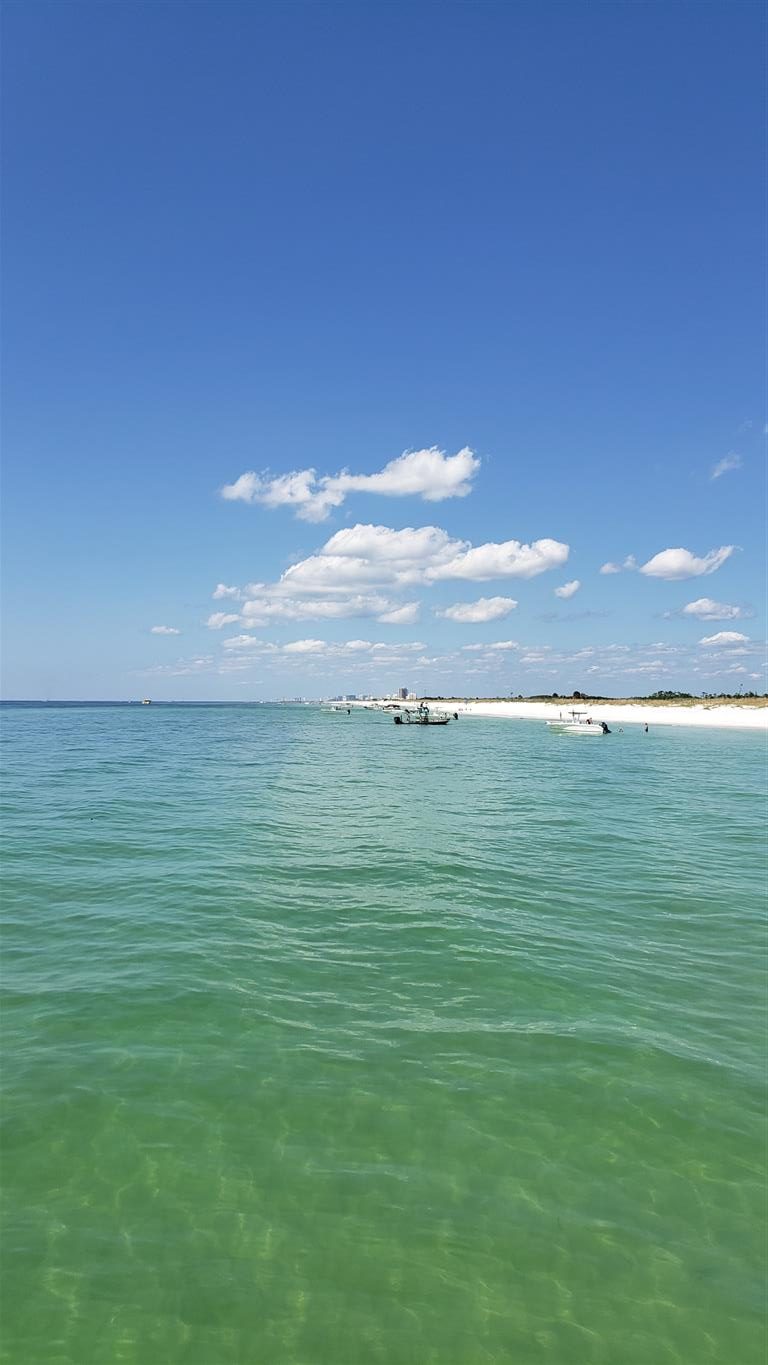 In addition to less competition for vacation rentals on the beach or at your favorite restaurant, it also means that you can enjoy the abundance of great local attractions, like aquariums, without waiting in line. Shop and play at Pier Park's million square foot outdoor mall, catch a flick at the IMAX Theatre, hit the town and head to Spinnaker for live entertainment, or cruise on over to the Ripley's Believe It or Not Museum to learn about the universe in a fun, engaging atmosphere. With little to no traffic you can easily zip to and from your favorite spots and park close to your various destinations!
If you love to fish, the fall months are great for catching triggerfish, mackerel, grouper, numerous amberjack species, and snapper species. There is something for everyone at this month-long tournament, whether you want to participate or just sit back and watch. See some of the record-breaking saltwater fish that is caught or join in on the fun yourself! In addition to the Destin Fishing Rodeo, fall visitors can still book fishing charters and enjoy your own adventure on the Emerald Coast!
If you are looking for things to do while on vacation at the Emerald Coast see our Best Things Lists;