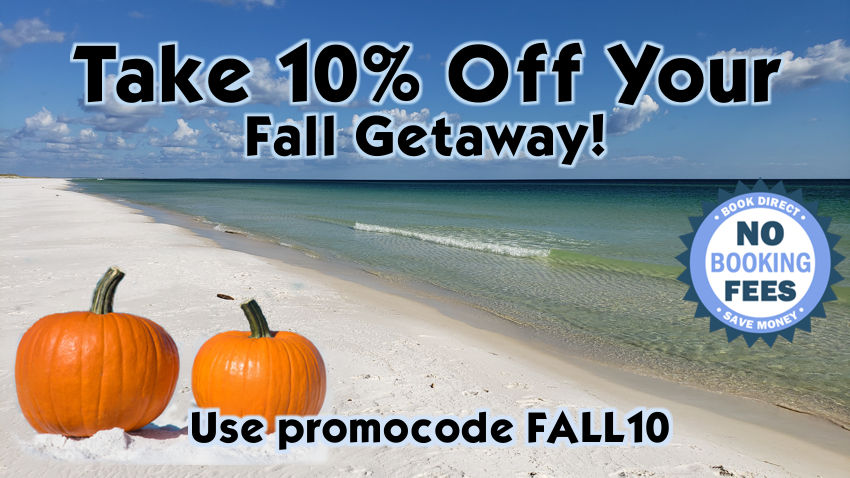 "FALL10" Promotion Code offers a 10% discount on most of our rental properties for any stays between Now and November 30, 2023.
The FALL10 Promotion code is valid until November 24, 2023
Only applies to new reservations, and cannot be used on existing reservations.
More Flexibility = More options this Season!
Browse plenty of options for 3+ night stays.
Book your Best Beach Getaway!
May not be available on all units.
Book NOW! and take 10% Off Your Beach Vacation

Just pick your dates between Now and November 30, 2023, and use promo code "FALL10" in the discount code box and you save 10% on the rent on most of our rentals.
Please note that this special promotion is offered on a first-come, first-serve basis. So, don't wait around or your perfect dates may be gone. Promo code FALL10 is valid until November 24, 2023.
 Only applies to new reservations, and cannot be used on existing reservations.
Guidelines for digging holes at the beach
The biggest danger -- They Can Cave In
Holes that have been dug into the sand have suddenly collapsed on the people inside. These accidents have proven to be dangerous and even fatal. Once a hole in the sand gets more than a few feet deep, the walls of the hole can easily cave in on those inside.
Aside from the very real threat of collapse, there are other important reasons to be mindful of the holes you dig on the beach. Lifeguards and other emergency responders need to be able to navigate the beach safely and often quickly. Holes create a major hazard for the personnel who travel on four-wheel drive and other off-road vehicles.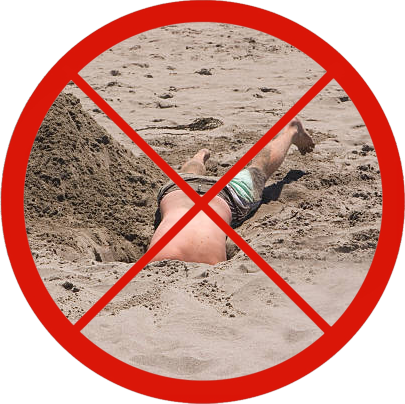 Beachgoers have been known to fall into holes, or seriously injure themselves when they inadvertently step into them. Those who are walking or running up and down the beach do not expect to come across holes in the sand when enjoying the area. These unexpected holes can cause injuries to runners and walkers if they were to fall into them or place their foot in them. Don't let a hole that you have dug cause a twisted ankle or worse! And finally -- another VERY important reason -- holes pose a threat to wildlife such as sea turtles making their way to and from the water's edge during nesting season, as well as birds, horseshoe crabs and other marine life.
HERE ARE SOME GOOD RULES TO FOLLOW WHEN CONSIDERING HOW BIG IS TOO BIG WHEN IT COMES TO HOLES ON THE BEACH, AS WELL AS SOME OTHER GOOD ADVICE FROM THE EXPERTS:
Always fill in the holes you do dig each time you leave the beach for any period, whether during the day or at night.
Never dig a hole deeper than the knees of the smallest person in your group.
Do not dig near the dune line or waterline where emergency vehicles regularly travel.
Never dig a tunnel on the beach.
Avoiding the digging of holes on the beach is just one way we can create a safer beach environment for everyone around us. Our beaches are meant for fun and relaxation, so avoiding mishaps and injuries will only create a better beach experience. Lastly, there's no reason to rid your beach toy supply of your child's favorite plastic shovel and bucket. Just keep in mind that there are plenty of fun and safe ways to enjoy the beach. Digging deep holes isn't one of them and can turn a trip to the beach into a tragic accident.
If you are looking for things to do while on vacation at the Emerald Coast or Anna Maria Island see our Best Things Lists;