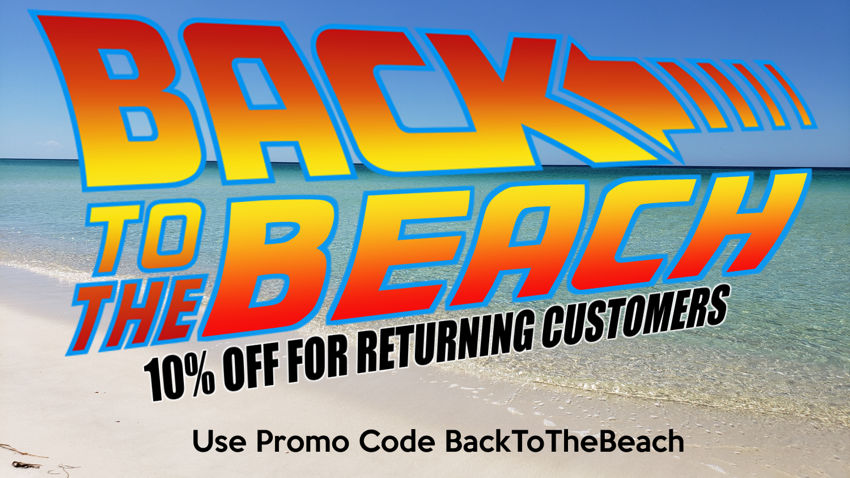 We're excited to offer all our returning guests 10% off the rent when you use the promo code "BackToTheBeach". So, just take a look at all our great vacation rental properties and pick your favorite. The sooner you do that the sooner you get to start getting ready. We want to see you come back to the beach!
BACKTOTHEBEACH Promotion Code NOT available for Anna Maria Island Rentals.
More Flexibility = More options this Season!
Browse plenty of options for 3+ night stays.
Book your Best Beach Getaway!
May not be available on all units.
Book NOW! and take 10% Off Your Beach Vacation
 This only applies to new reservations, and cannot be used on existing reservations.
What do all these beach flags mean?
You've probably noticed them at a day at the beach: flags outside near the surf, often near lifeguard towers. They have different colors of green, yellow, red, and sometimes even purple. But what do these beach warning flags all mean?
In this blog, we're going to dive into the various types of beach warning flags. It's extremely important to know the types of flags before heading to the beach. Being aware of the flag types will help you be safe in the surf, and plan accordingly.
In 2005, in order to minimize the risks of drowning or serious injury, the state of Florida adopted a uniform warning flag program. The state's beach warning flag program uses flags in four colors accompanied by interpretive signs, typically found on lifeguard stands, along the beach to explain the meaning of each color.
Two Red Flags with Black Squares: Hurricane Conditions
Two Red Flags: Water closed to the public
Red Flag: High hazard, presence of rip currents
Yellow Flag: Moderate hazard, moderate presence of rip currents
Green Flag: Low hazard, calm conditions
Purple Flag: Dangerous marine life
The new system uses four colors; three to indicate the sea state - red, yellow and green and one other color; purple to warn of dangerous marine life. As well as the flags you should also find multi-lingual signs nearby explaining the colors and the nature of the warnings.
These are the standard flag colors used throughout the state of Florida:
Green signifies a low hazard with calm conditions. Even when the flag is green, you should still take care and watch in case the conditions change. Dangerous rip currents can appear without warning
Yellow indicates a medium hazard with moderate surf and/or currents. Advice is to take extra care and only enter the water if you are a strong swimmer
Red indicates a high hazard with severe surf and/or currents. Advice is to avoid entering the water. Only the most experienced swimmers should consider entering the water as conditions could be hazardous
Red with a no swimming symbol means the beach and/or the water is closed to the public. This is flown as a double red flag and can indicate a number of dangers such as severe currents or surf, water pollution, predatory fish or lightning
Purple indicates hazards from dangerous marine life in the vicinity such as sharks, stingrays, or jelly fish
The purple marine life warning flag is flown in conjunction with the sea state green, yellow or red flags.
Note that a double red flag indicates that the beach and/or the sea is closed to the public and you should not enter the sea under any circumstances.
If you are looking for things to do while on vacation at the Emerald Coast or Anna Maria Island see our Best Things Lists;