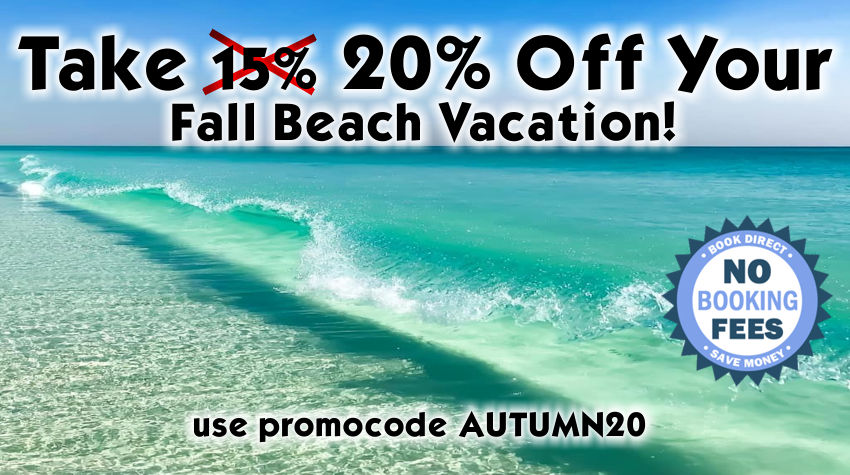 We have Extended our promotion code for the Fall
"AUTUMN20" Promotion Code offers 20% discount on all our rental properties for stays between Today and November 15, 2022.
The AUTUMN20 Promotion code is valid until November 10, 2022
Book NOW! to receive 20% discount
No Service Fees! Book with us and save!
Just pick your dates between Today and November 15, 2022 and use promo code "AUTUMN20" in the discount code box and you save 20% on the rent in any of our rentals. Please note that this special promotion is offered on a first come, first serve basis. So, don't wait around or your perfect dates may be gone. Promo code AUTUMN20 is only valid until November 10, 2022
Only applies to new reservations, cannot be used on existing reservations.
The following rental units are excluded from this promotion
Azure 201 & 416, Heron 303, 409, L-05 & L-09, Runaway Bay 101 & 120 and Sea It All
END OF SUMMER BEACH VACATION.
For many of us, that can only mean one thing… Winter is coming. Fortunately, the water is still warm on the Emerald Coast. And the fun is just beginning. Here are a few reasons.
Warm Weather in October
The best part about going to the beach is… Well, the beach. If it's not warm enough to enjoy the sun and sand, it's not really much of a 'beach vacation.' If you're looking for the best weather for a beach fall vacation, Emerald Coast may be the answer to your prayers. These sandy white beaches have the added perk of remaining vacation-worthy well past the months of August and September. If you want a tan, just try to plan your autumn beach vacation before November rolls around.
Weather in the Emerald Coast
September: 78 degrees. Highs of 85 and lows of 73.
October: 71 degrees. Highs of 77 and lows of 64.
November: 62.5 degrees. Highs of 69 and lows of 55. 69-55
Save Money–and Your Sanity
Beaches are notoriously crowded during the summer months. With school back in session and tourist season ending, autumn is a peaceful time to visit the beach. Not only do you get to skip the crowds and traffic, also likely access more affordable accommodations and travel.
After Labor Day, Emerald Coast visitors can browse a number of special offers, including a number of seasonal-specific discounts on local dining and local attractions. A stress-free beach vacation for a fraction of the price? Say no more.
Fall Festivals and Events
When the tourists pack up and head home at the end of August, things are just heating up for Emerald Coast.
Destin Fishing Rodeo
The Destin Fishing Rodeo is an annual event on the Destin Harbor that lasts throughout the entire month of October. Destin is known as "The World's Luckiest Fishing Village," so it's no surprise that The Destin Fishing Rodeo is one of Destin's biggest events. The Destin Fishing Rodeo is fun for all ages and over $100,000 of cash prizes are awarded for nearly every type of fish. Located right in HarborWalk Village, this event is perfect for the whole family if you're planning a trip to Destin this fall.
Destin Seafood Festival
If you love seafood, the Destin Seafood Festival is a can't-miss event! Also located in HarborWalk Village, this festival is a free event that features tons of delicious seafood from local restaurants and vendors. Try incredible food and drinks while enjoying the wonderful family-friendly atmosphere of the Destin Harbor. The event takes place on Friday, October 4th, from 4 pm to 10 pm, Saturday, October 5th, from 10 am to 10 pm, and Sunday, October 6th, from 11 am to 4 pm.
Baytowne Wharf Beer Festival
The Baytowne Wharf Beer Festival is known as the "Best Beer Fest on the Emerald Coast." If you love trying craft beers, Baytowne Wharf Beer Fest is an event you don't want to miss. This fun two-day event features more than 40 on-site craft brewers, almost 200 domestic and international craft beers, seminars, samplings, and live music. Overall, this is one of the biggest events of the year.
Flutterby Arts Festival
If you're visiting South Walton and looking for a fun kid-friendly festival to attend, you need to stop by the Flutterby Arts Festival in Watersound. Produced by the Cultural Arts Alliance of Walton County, this festival celebrates the migration of the monarch butterfly through the area with tons of fun activities. The festival features art activities, live music, theatre, dance, art exhibits, and even a butterfly parade.
Alys Beach Firkin Fête
Alys Beach Firkin Fête is another fun event happening on the Emerald Coast for beer lovers. This event kicks off on Friday, October 24th, at 6:30 pm with a Grayton Beer Company Mixer. The festival continues with the main event at 6:30 pm on Saturday, October 25th, on Kelly Green in Alys Beach. Firkin Fête features live music, food, and unique beers paired with wine, bourbon, and craft cocktails.
Seeing Red Wine Festival
It's time for wine enthusiasts to mark their calendars for the Seeing Red Wine Festival in Seaside! This fun fall event lasts three days and is full of fun wine tasting events. The weekend kicks off with the Bud & Alley's Vintner Dinner on November 7th. On November 8th, head over to Ruskin Place for the Al Fresco Wine Tasting. The Al Fresco Wine Tasting showcases a carefully curated selection of reserve wines. The Grand Tasting in Downtown Seaside and Ruskin Place takes place on November 9th and features a wide selection of local food and wine. Additionally, the weekend ends with the Celebration of Bubbles Brunch at Ruskin Place. This event features sparkling wine, prosecco, and champagne paired with incredible food by Chef Jim Shirley.
Overall, with so many exciting events happening in the area throughout autumn, it really is the perfect time to visit. Whether you're into seafood, wine, beer, fishing, or art, there is an event you'll love! Start planning your fall getaway to Destin or 30A today!
If you are looking for things to do while on vacation at the Emerald Coast see our Best Things Lists;