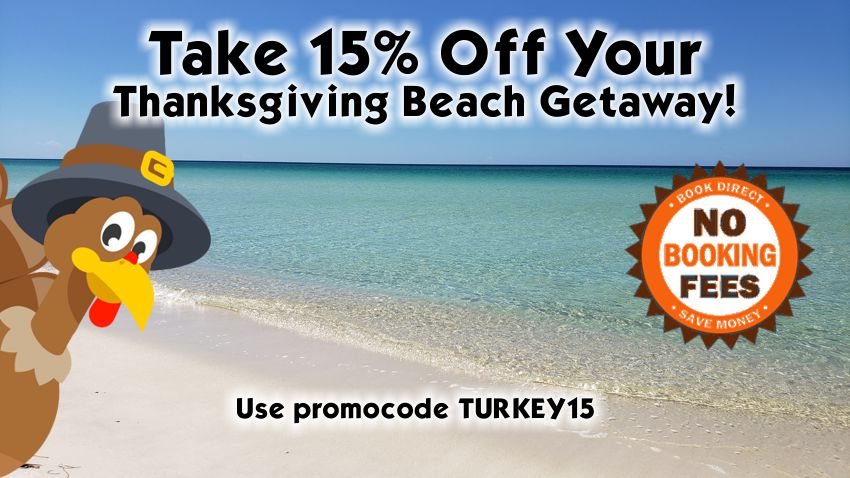 Thanksgiving at the beach is the best way to gather with your family!
Give Thanks for Family, Friends & Feasts at the Beach.

"TURKEY15" Promotion Code offers a 15% discount on most of our rental properties for stays between November 20 and 26, 2023.
The TURKEY15 Promotion code is valid from October 25 to November 19, 2023
More Flexibility = More options this Season!
Browse plenty of options for 3+ night stays.
Book your Best Beach Getaway!
May not be available on all properties.
Book NOW! to receive a 15% discount 
No Service Fees! Book with us and save!
 Just pick your dates between November 20 and 26, 2023 and use promo code "TURKEY15" in the discount code box and you save 15% on the rent on most of our rentals.
Please note that this special promotion is offered on a first-come, first-serve basis. So, don't wait around or your perfect dates may be gone.
Promo code TURKEY25 is valid from October 25 to November 19, 2023.
  Only applies to new reservations, and cannot be used on existing reservations.
Thanksgiving at the beach.
Traditionally, Thanksgiving has meant a gathering at one unlucky family member's home and a full day of cooking for a 30-minute feast, followed by a full day of cleaning. Not exactly what most people would consider a holiday, especially if you're the one doing all the cooking and cleaning.
That's one of the many reasons families have started to take a more relaxing approach to the holiday with a visit to our Florida Beaches. Not only is the weather still warm well into November, but there's a whole lot of fun and festivities taking place. Here are some reasons to visit our Florida Beaches on Thanksgiving:
Black Friday
The new holiday that follows Thanksgiving is the biggest shopping day of the year and is a great place to spend it. All the shopping complexes, malls and outlet stores that are built to accommodate heavy summer crowds are much less busy during the offseason and present visitors with a great opportunity to knock out all of their Christmas shopping in one trip. Guests have discovered that they can come to our Florida Beaches for a family Thanksgiving, spend the next day shopping, and still save money by taking advantage of all the sales. You may go back with a full vehicle, but at least you will go home with an empty shopping list and with some great family memories.
Food
For some, Thanksgiving is all about the food: Turkey and dressing, mashed potatoes and gravy, cranberry sauce, and pumpkin pie. But you don't have to spend the holiday over a hot stove to enjoy these traditional favorites. There is a long list of restaurants serving Thanksgiving dinner with all the trimmings. Let someone else do the cooking and the dishes while you relax and chow down on excellent cuisine.
Football
Watching football is as much a part of Thanksgiving as turkey. There's just something about watching people fight over the pigskin that makes the holiday complete, and the NFL and NCAA make sure there are lots of games on TV over Thanksgiving weekend.
Beautiful Weather
Florida's weather has always been the state's most important and most talked-about natural resource. People know how incredible the weather is, and if you asked them, all bets are on that they want to go to the sunny state with the Pacific Ocean on one side and the Gulf of Mexico on the other. Blue waters and white sandy beaches are the call, and fun in the sun is the remedy.
Summers in Florida are lengthy, warm, and quite humid. Winters are mild with cool breezes and periodic cold temperatures. During the fall months. Most places experience quite cold temperatures around Thanksgiving, but in Florida, you can still head outside in your short-sleeves and flip-flops.
Family Friendly
From the most popular vacation spots to everyday life, kids always find their own entertainment. From kayaking to sailing, surfing, and scuba diving, Florida has it all! Families love enjoying local restaurants and shops, and after dessert, it's back to the beach. With the great weather here, there are boatloads of outdoor activities kids will love.
If you are looking for things to do while on vacation at the Emerald Coast see our Best Things Lists;