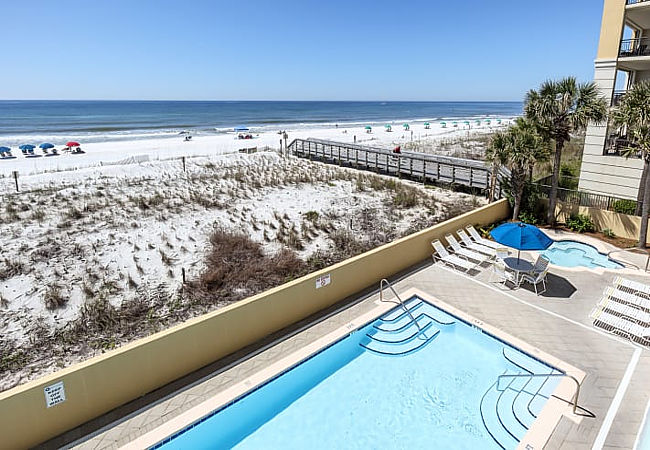 Florida's Emerald Coast gets its name from water that's as clear and bright as a gemstone, and white sand that sparkles like a diamond. Now you've found your own gem at the Pelican Isle Resort on Okaloosa Island.
This condo resort faces 300 feet of the Gulf of Mexico. You'll be able to enjoy every foot of it from your condo, because each has its own private, covered balcony that faces the beach. Imagine relaxing there with your friends and family, looking out at the exquisite scenery. Watch the sun rise as you drink your coffee or watch it set as you unwind with a candlelit dinner. If you're lucky you might spot dolphins splashing in the warm gulf waters.
If you want to experience the beach up close--and who doesn't in Florida?--you're in more luck. The resort offers every guest complimentary beach service in season so in just minutes, you can be relaxing on soft sand in your own chair, under your own beach umbrella.
A world of fun is right outside the door. Okaloosa Island has its own pier and boardwalk where you'll find beach shops, souvenir shops, world-class seafood and nightlife. The island lies between Fort Walton and Destin, two of Florida's top vacation destinations. Destin is a hub of shopping, dining and entertainment and is also known as the "world's luckiest fishing village." In Fort Walton you can visit the Indian Temple Mound and Museum or the beach flea market. Everywhere you'll find charter boats, whale spotting, parasailing, snorkeling, surfing and scuba diving. Enjoy a quiet afternoon exploring the gulf waters by canoe or kayak. Plan a romantic beach picnic or learn to build a sandcastle. Your only question may be, what should we do next?
When looking for an Okaloosa Island condo rental, our goal is to make your vacation not just good but perfect. The front desk is open seven days a week and whatever we can do to help, just ask.
After a whirlwind day of fishing, shopping or whale-spotting--or a less whirlwind one of lazing on the beach--you'll be glad to come home to your condo at Pelican Isle. Each is spacious and inviting, with designer furnishings and modern amenities. You'll have a fully-equipped kitchen, your own washer and dryer, cable, a DVD player and free Internet access. Every condo comes with cooking and serving items, linens, a phone and a coffeemaker.
The condos come in two sizes. The one-bedroom sleeps six in one king-sized suite, a queen-sized sleeper sofa and two bunk beds. The two-bedroom unit sleeps eight with a king-sized suite, a queen-sized suite, a queen sleeper sofa and two bunk beds.
If you're looking for treasure among Okaloosa Island condo rentals, your search is over. Come and claim this jewel as your own.
Your dream vacation is just a click or phone call away.
INFORMATION ABOUT OKALOOSA ISLAND
Okaloosa Island is a regional term used for the section of Santa Rosa Island that spans about 5 miles west to east from the Brooks Bridge in Fort Walton Beach to the Destin Bridge; then southward along the island's main thoroughfare – Santa Rosa Boulevard. The emerald green waters of the Gulf of Mexico define the south side of the Okaloosa Island and the tranquil waters of the Choctawhatchee Bay define the north. Condominiums and structures on Okaloosa Island can be no higher than 75 feet, creating an island atmosphere that's relaxed and unimposing.
Surrounded by Santa Rosa Sound, Choctawhatchee Bay and the Gulf of Mexico, Okaloosa Island has the largest boardwalk in the Destin area with restaurants, nightlife, shops, playground area, volleyball nets, showers, restrooms, lifeguard station, fishing pier, and wheelchair access ramps. The 1,261-foot-long fishing pier is lighted for night-time fishing and has rod holders and benches built into it. You'll find jets ski rentals, parasailing, airplane rides, beach umbrellas and beach services available throughout the Island. This barrier island famous for pristine beaches, water sports and awesome family attractions. Come play beach volleyball on sand so clean it squeaks underfoot. Laugh with the sea lions at the world's oldest, continuously operating live marine show.There's a miniature golf center with batting cages and arcade located on the bay side of the island. So, if you're looking for a great vacation with lots of water sports and of course a fabulous beach, Okaloosa Island is just the ticket to a memorable beach vacation. Find out for yourself why families return here year after year, generation after generation, to build memories in the sand
Okaloosa Island is a destination that stands alone – everything you want from a Florida vacation with that small town, local feeling. Claim this local island as your home away from home, and create lasting memories with friends and family for years to come. View all of our Okaloosa Island rentals and start planning your vacation today!
• Gulf Front Pool
• Hot Tub
• Fitness Center
• Complimentary Beach Service
• High Speed Internet