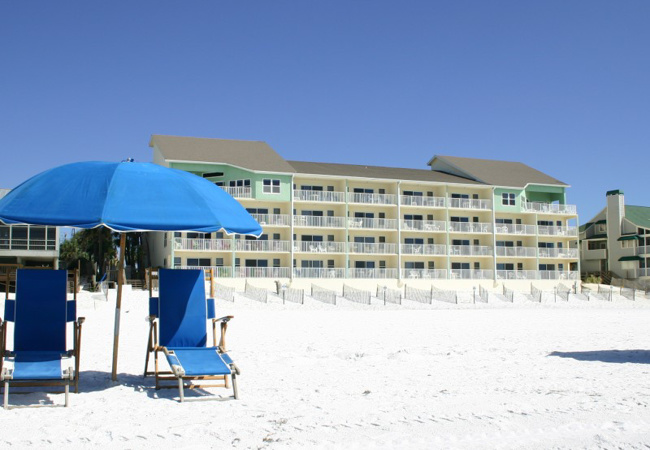 Imagine relaxing on your balcony overlooking the sparkling blue-green waters of the Gulf of Mexico at sunset. Now turn those dreams into reality with a beach vacation to Cabana Club.
The Cabana Club condos were built in 1984 and feature a low rise building with 4 floors, and 30 units divided among the floors. You will find a total of 28, one-bedroom units and two penthouse units. Looking for plenty of space to relax and unwind? Look no further, the one-bedroom, one and a half bath has a total of 1,100 square feet. This is a terrific amount of space for a one-bedroom condo! The penthouse measure to a spacious 2,400 sq. ft.
Located on an uncrowded shoreline, Cabana Club is ideal for the romantic, beachfront lifestyle and honeymoons. These vacation rentals in the Destin area offer amenities such as a fully equipped kitchen, a private balcony, washer/dryer, and whirlpool tubs.
Of course, there is plenty for guests to explore outside of the condo complex. Enjoy the underwater views as you go snorkeling. If you want to drop a line, there is a great fishing spot at old Crystal Beach Pier. After a long day of having fun, you can come back and stay in your condo. Enjoy the gulf front views and listen to the wave's crash ashore during the sunset. This is sure to be a memorable stay if you pick the Cabana Club Condos.
For those that want to cook food outdoors, you can grill in the BBQ area on site. This can easily turn into a wonderful event with your significant other that you will remember for years to come. If you have never been to this area you will fall in love with it. There is also plenty to do in the Destin area if you are interested in viewing any live entertainment. Golf, parasailing, windsurfing, boating, snorkeling, diving, and rafting are all a short driveway. Henderson State Beach is also very close for you to visit.
Food connoisseurs will enjoy the wide selection of fine dining found along the Emerald Coast. You are only a short drive to the Destin Commons and Silver Sands Outlet for anyone looking to shop during their stay here at the Cabana Club Condos.
Bike trails offer an alternative method of taking in the area's natural beauty and coastal wildlife, while a community pool and hot tub offer a sand-free alternative to fun in the sun and relaxation. There is covered and non-covered parking available for your vehicles.
•Pool
•Hot Tub
•Grilling area
•Covered and uncovered parking