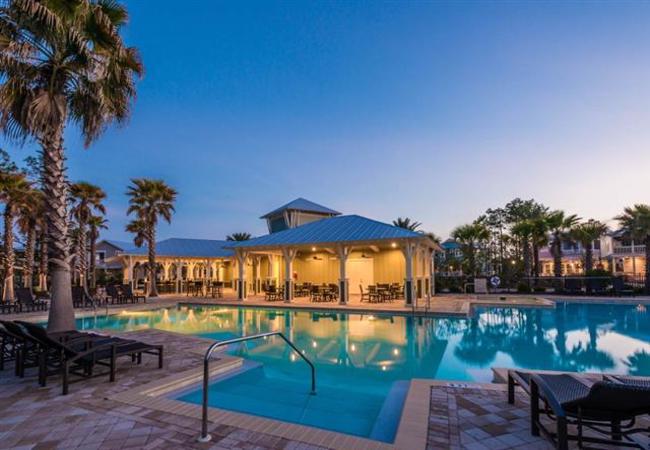 Journey across the elaborate wooden bridge to journey into a brand new landscape hidden by the ocean tucked between WaterColor and Seagrove Beach. NatureWalk at Seagrove is a quiet and natural sanctuary which brings visitors into a state of peace while highlighting the simple pleasures that families enjoy. Some of South Walton's most vibrant natural landscapes can be found in NatureWalk, Florida which include rare geological features that can be found among the coastal dune lakes.
This spacious neighborhood allows room to stretch out and appreciate the pleasures of NatureWalk and its peaceful tranquility. At the focal point of the neighborhood is the Gathering Place where you will find numerous amenities for families and friends to enjoy an evening together such as : a fire pit, hot tub, playground, and an entertaining bar. NatureWalk offers two neighborhood Olympic size swimming pools as in addition to many miles of trails throughout the community that are perfect for hiking or taking a scenic bike ride with your loved ones. Each NatureWalk home rental rivals the style of a WaterColor vacation excursion. Also if you're interested in other rentals, take a look at our 30A rentals.
NatureWalk's central location provides the perfect opportunity for you and your family to enjoy more than just one side of 30A. While not relaxing on pristine waterfront locations, your family may enjoy shopping, dining, and resort-style fun at downtown WaterColor are only minutes away; the shimmering emerald shores are just a bike ride away for a relaxing day at the beach. Seagrove Beach is just around the corner to cater to your outdoor living style. Eastern Lake, located a quarter of a mile south of the Scenic 30A, contributes to any vacation by adding fishing, Yolo boarding, canoeing, and kayaking. Let the balance of the breathtaking beaches and the natural landscapes which will sweep you away into the vacation that you have been dreaming about.
Swimming Pool
Hot Tub
Splash Pool
Lap Pool
Pavillion
Gas Grills
Kids Playground
Putting Green