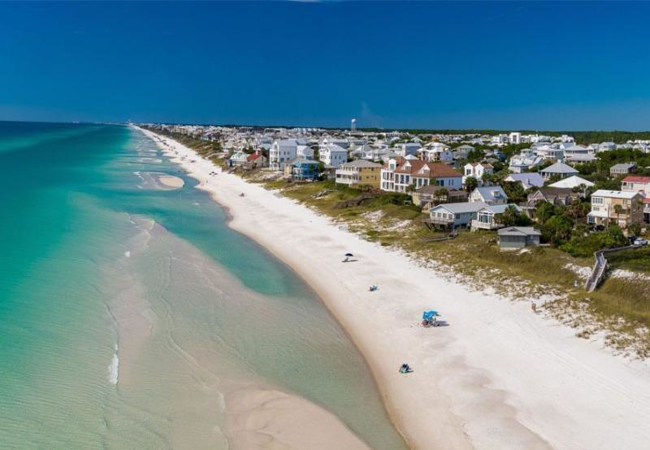 Old Florida lifestyle that offers the best modern amenities and perfect white open beaches.
Inlet Beach is a true beach lover's paradise. With the area's largest regional beach access, a beach chair, sunscreen, and a good book are all you really need to mix up the perfect recipe for relaxation.
Inlet Beach is just about as authentic 'Old Florida' as you'll find in South Walton, and perhaps anywhere. Quite quiet and bordered by 13-acres of protected dunes, this pristine beach neighborhood feels as if time somehow forgot it. Think A-Frame with a front porch, concrete block cottages and homes raised high on stilts.
Old-meets-new here, as cozy cottages elicit an Old Florida feel, while modern accommodations, new restaurants and high-end shopping bring a new energy to this carefree beach neighborhood. You might spend the day exploring local boutiques and specialty shops at 30Avenue, an open-air lifestyle center with wide-open green space for events, before settling down for a bite to eat. Grab a laid-back bite at The Donut Hole, an authentic Neapolitan pizza at amici 30A Italian Kitchen or meet friends at Shades Bar & Grill, an elevated sports bar that serves as the community watering hole.
If fresh Gulf seafood, live music and an award-winning wine list tempt you, look no further than Cuvee 30A, and if you're feeling nostalgic for Inlet Beach's original special occasion dining location The Terrace Restaurant is a can't miss. Recently added tasty options at The Shoppes at Inlet include the coffee and donut offerings of Café Aroma, and the fresh sushi and delicious ramen served at Shaka Sushi and Noodle Bar.
Once known as "Soldiers Beach" (named after World War II vets who purchased land in this area through a government homestead program), the dunes often soar to massive heights here, and the extra long neighborhood walkovers allow for some pretty spectacular photography.
On the beach, take a stroll toward the old pier at Camp Helen State Park and dip your toes in the warm waters of Lake Powell, the largest coastal dune lake in all of Florida. If you're really lucky, you might happen to arrive on a day when the lake has burst out into the Gulf of Mexico — mixing water the color of iced tea with the bright blue hues of the Gulf.
With so much to do, it's no wonder Inlet Beach, which shares a border with Camp Helen State Park, is one of the fastest-growing beach neighborhoods in South Walton. No matter where you start your exploration, cool, casual and comfortable are the cornerstones of this easternmost South Walton neighborhood.
Read the history of Inlet Beach Here